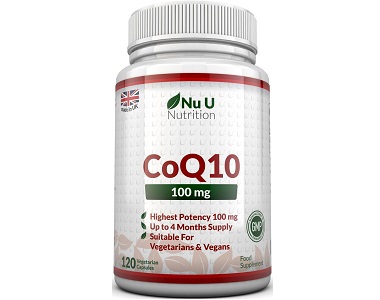 CoQ10
Updated November, 2023
---
Nu U Nutrition CoQ10 Review
---
Manufacturer's Claim
If you haven't heard of COQ10, you're not alone. The discovery of this important coenzyme only came to light in 1957. It helps the cells to release energy on a mitochondrial level. Consequently, this nutrient has far-reaching consequences for the workings of the body as a whole, especially in the arenas of heart and vascular health. COQ10 also protects the heart and cells from damage by eliminating free radicals. Our review today focuses on a COQ10 supplement by Nu U Nutrition.
The manufacturer has designed the product as an aid to heart and mitochondrial cell health and anti-aging. It also claims its product to be triple the strength of others.
COQ10 is found throughout the body but is concentrated in the liver, pancreas and kidneys. It is found naturally in small amounts in most foods eaten such as poultry, fish and eggs, with the average human being ingesting about 5 mg to 10 mg per day. COQ10 production decreases as you get older, particularly after the age of 60. Taking statins also suppressed COQ10 production.
Formula
COQ10 – 100 mg
Bulking Agent (Maltodextrin)
Capsule Shell (HydroxyPropylMethylCellulose)
Anti-Caking Agent (Magnesium Stearate, Silicon Dioxide)
COQ10 helps the cells release energy and repair themselves. It is also a vital medical tool used to fight the likes of Parkinson's and Alzheimer's. Research has shown that it can strengthen the heart and better help it to carry out its vital functions. As a result, COQ10 is often a key ingredient prescribed to people with heart disease. This is not a triple-strength product through as the average concentration in most formulas is 100 mg.
An individual under 40 in normal health would benefit from about 50 mg to 100 mg of this nutrient, but as COQ10 production declines with age, 100 mg to 300 mg is required if you are over 60. This is especially true if you are on statins. The bioavailability of the drug is important – it is not the easiest compound for the body to absorb. The best absorption is either with an absorption agent such as vegetable oil in a soft gelatin tablet with the most unavailable form being the powdered form.
Instructions
Take 1 capsule per day with food and water. If you are pregnant, breastfeeding or on medication, seek your doctor's advice first.
The dose greatly affects the benefits, as studies have shown. We would suggest safely being able to take up to 300 mg, especially if you are on statins, and over 60. It goes without saying that you should proceed under medical guidance. This formula contains a very average dose which is likely only to benefit you if you are in reasonably good health already.
Cost
You can purchase 120 capsules on the product website for $24.09. This is one of the most cost-effective COQ10 supplements. It is a 4 or 2-month's supply depending on whether you take a single daily or double dose.
Possible Side Effects
Usually, side effects are mild and rare. They include nausea and diarrhea.
Guarantee
The attractive price of this supplement is undercut by its 30-day money-back returns policy, which is only available to consumers in the UK.
Nu U Nutrition CoQ10 Review – The Bottom Line
The product is suitable for vegetarians and there is no question that almost everyone can benefit from more COQ10, but other than that we have a number of concerns. We must also mention though that the price point is attractive.
Firstly, we are concerned about the exact bioavailability of the formula. Although it is not useless to the body in its currently formula, the absorption is likely to be low. Consequently, the effects will not be felt as best they could. Secondly, the claim of being triple strength begs the question, as compared to what? The dose is an average one. There are a myriad supplements available with a higher dose, with the highest concentration in a single serving we've seen been 250 mg.
Finally, should you purchase the product and it is not the right COQ10 for you – due to bioavailability or your own set of health prerequisites – you will not receive your money back unless you are in the UK. It is worth it, in our opinion, paying slightly more knowing you'll have peace of mind should you need to switch to another, more easily absorbable COQ10 formula.
Reviewed & delivered by our panel of experts at Reviewy.