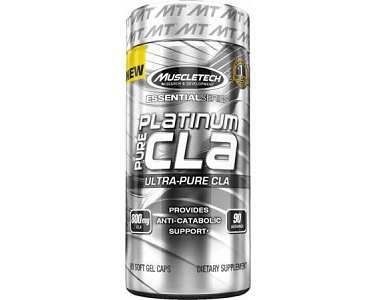 CLA
Updated May, 2022
---
MuscleTech Platinum Pure CLA Review
---
Manufacturer's Claim
We wrote this Platinum Pure CLA review to show whether or not this CLA product does what it is advertised as doing. The main purpose of this product is to help consumers lose weight, shape their body, and give an added boost to their metabolism. But does it really work like it should?
Formula
There is only one ingredient listed in Platinum Pure CLA and that is 800 mg of Conjugated Linoleic Acid (CLA). This is an ingredient that has been shown to help those who are trying to lose weight without losing any muscle. The CLA found in this product is sourced from safflower seed oil, making it a healthy way to obtain CLA. The amount of CLA in each serving is 800mg.
Instructions
The instructions for taking Platinum Pure CLA aren't very difficult to understand. You will need to take one serving, which is one softgel capsule, three times per day. You'll need to take this with a full glass of water and you should also take this with your meals. Make sure that you don't exceed three servings within 24 hours.
Cost
You can't buy this product directly from the manufacturer's website. The manufacturer does also not provide a way for you to buy this product online, though they do provide you with a list of retailers. After some research, we found you can buy one bottle of Platinum Pure CLA from bodybuilding.com for a price of $15.80. This will buy you a bottle of 90 softgel capsules. Because you will be taking three softgel capsules at a time, this bottle should last you for a month.
Possible Side Effects
There are a few side effects that you may experience when taking this CLA product. These are normally fairly mild and are only rarely severe. These side effects include having an upset stomach, experiencing diarrhea, becoming nauseous, and finding yourself very fatigued. As with every other medication, vitamin, and supplement, if the side effects appear and are impacting your daily life, you should speak with a medical professional.
Guarantee
Despite searching the MuscleTech website, as well as doing countless Internet searches, we could find no evidence of a guarantee. These include guarantees that Platinum Pure CLA will work as advertised, as well as a guarantee that you will receive your money back if you are not happy. This can certainly be a bad sign. The manufacturer may also not feel a need to provide one as they are not selling the product directly.
MuscleTech Platinum Pure CLA Review – The Bottom Line
We've learned a lot while writing this Platinum Pure CLA review. We learned that the only ingredient listed, Conjugated Linoleic Acid (CLA), has certainly been shown to work for weight loss and boosting your metabolism. The price for a month's worth is also fairly low, at only $15.80 per bottle. However, this product is not sold through the manufacturer's website, and there do not seem to be many online retailers to buy this product from. The manufacturer also provides information about how to spot counterfeit products which means this is something you may have to contend with. The lack of guarantee is another drawback of this product. We think you should probably look elsewhere.
Reviewed & delivered by our panel of experts at Reviewy.