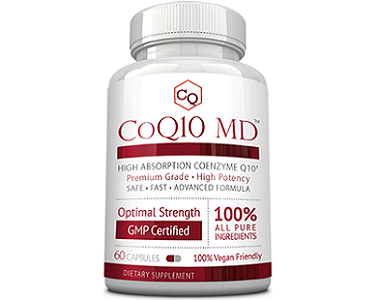 CoQ10
Updated November, 2022
---
Approved Science CoQ10 MD Review
---
Manufacturer's Claim
The following review is for a dietary supplement called CoQ10 MD. This product, unlike other products, boosts antioxidant levels, protects against cognitive diseases, improves cardiovascular health, regulates blood sugar levels, and also helps the body produce energy for cell growth. This product has been produced with quality ingredients, providing the right concentration of ingredients for effective results. Another factor that makes CoQ10 MD stand out is the fact that it supports, protects, and restores the cells in the body. Read on to see what CoQ10 MD can do for you as an effective supplement for cardiovascular and cognitive health.
Formula
This product contains Coenzyme Q10 which is a natural enzyme that functions as an antioxidant. Not only does it help the body produce energy, it also helps to protect the brain, heart, and skeletal muscles from damage which is usually caused by harmful molecules. Another ingredient found in this supplement is BioPerine. Piperine, which is found in black pepper, has been shown to increase the absorption and bioavailability of nutrients. BioPerine is in turn a patented concentrated source of Piperine. The capsules are vegan friendly and are only made from vegetable cellulose and rice flour.
Instructions
It is recommended that users take 1 capsule in the morning and 1 capsule in the afternoon, preferably 30 minutes before a meal. Take each capsule with an 8 oz. glass of water. It is taken as a dietary supplement. These instructions are clear and leave no room for doubt.
Cost
Online purchases can be made from the manufacturer's website. A single bottle will cost $49.95, after the 17% discount. Different packages are offered, depending on the severity of your condition. Thus, to make it easier on your wallet, the more bottles you buy, the lower the price is per individual bottle. The manufacturer provides a limited 53% off on the purchase of a 4 bottle supply. Furthermore, the manufacturer is also offering a limited time offer of purchasing 3 bottles and receiving 3 bottles free.
Guarantee
As CoQ10 MD is guaranteed to provide the best results and health benefits, the manufacturer offers a 60-day money-back guarantee. Bottles that have been opened and used, as well as unopened bottles must be returned for a full refund, if you are not satisfied with the results. The shipping price is excluded. It is always good to have a risk free return policy when purchasing a product as a first time user thereof.
Approved Science CoQ10 MD Review – The Bottom Line
This review has proven that CoQ10 MD holds many positive qualities and is an effective dietary supplement for cardiovascular and cognitive health. It contains a powerful dosage of coenzyme Q10, accompanied by BioPerine for optimal absorption and bioavailability. Furthermore, the product comes with clear instructions on how it should be taken. Another positive aspect is that the manufacturer provides their customers with many discounts and bulk packages, which helps when it comes to long-term usage thereof. Lastly, the manufacturer offers a 60-day money-back guarantee on the product, if you are not satisfied with the results and wish to return it for a refund. We recommend the use of CoQ10 MD as an effective dietary supplement for the mind and body.
Reviewed & delivered by our panel of experts at Reviewy.