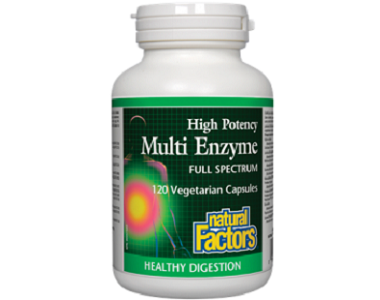 IBS
Updated September, 2021
---
Natural Factors Multi Enzyme Review
---
Manufacturer's Claim
Read our review below about Multi Enzyme. This high potency formula enhances and assists with normal digestion. The blend of vegetarian sourced enzymes helps to break down fats, carbohydrates and proteins while also improving nutrient absorption. It further also cleanses the colon, stimulates the good bacteria in the gut, reduces heartburn after eating and reduces bloating and gas.
Formula
Alpha-amylase – 126mg
Cellulase – 36mg
Lactase – 11mg
Maltase – 20mg
Sucrase – 4mg
Hemmicellulase – 20mg
Fungal protease – 110mg
Bacterial proctease – 10mg
Peptizyme SPTM – 2mg
Bromelain – 100mg
Papain – 25mg
Lipase – 50mg
These ingredients are efficient at breaking down fats, carbohydrates and protein. It also stimulates the good bacteria in the digestive tract. Amylase is a replacement for pancreatic enzymes and breaks down amylose (a form of starch in sugars and carbohydrates). Cellulase helps with breaking down cellulose (a plant fiber). Lactase assists with the digestion of milk sugar. Sucrose and maltase break down sugars. Bromelain and Papain assist the body with digesting sugars, fats and proteins and papain and Lipase breaks down fats.
Non-medicinal ingredients included in this formula are cellulose and maltodextrin.
We have found that formulas which contain the following soothing and anti-inflammatory ingredients are much more effective than other IBS products: Peppermint Oil, Psyllium, Aloe Vera, Turmeric, Ginger Root and Fennel Oil. A blend of natural digestive enzymes should be included in these types of formulas in order to improve symptoms of IBS.
Instructions
After thorough research, we were unable to find the dosage required for Multi Enzyme. Without clear instructions on what dosage should be taken, we would worry about clients possibly taking more than allowed.
Cost
One bottle containing 120 capsules can be bought for $34.97 on Amazon.
Guarantee
The company does not offer a money-back guarantee. This is somewhat worrying as it might mean that they lack confidence in the effectiveness of their products. There are many companies who offer money-back guarantees for up to one year after the purchase have been made.
Natural Factors Multi Enzyme Review – The Bottom Line
After reviewing this product we found that it is a high potency formula which would definitely promote normal digestion. It improves nutrient absorption, stimulates good bacteria in the gut, reduces gas and bloating and also reduces heartburn after eating.
We did find that there are a few very important anti-inflammatory ingredients missing in this formula, namely Psyllium, Peppermint Oil, Turmeric, Aloe Vera and Fennel Oil. They play an important role when it comes to relieving the symptoms of IBS.
It is quite worrying that we could not find any info with regards to the dosage that should be taken. This might be confusing to clients. We also could not find any info on a money-back guarantee. This might mean that the company lacks confidence in their products. There are many other companies who sell similar products who offer up to a one-year guarantee even for used products. Trying out those products would be a much safer bet, as you won't risk wasting your money on a product that might not work for you.
Reviewed & delivered by our panel of experts at Reviewy.