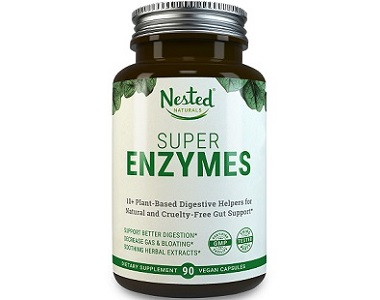 IBS
Updated October, 2020
---
Nested Naturals Super Enzymes Review
---
Manufacturer's Claim
The subject of this review is for a product called Nested Naturals Super Enzymes. A dietary supplement designed by the manufacturer to help support better digestion, decrease gas and bloating, whilst also providing a soothing relief from the herbal extracts. Read our full review below to see how the ingredients in Nested Naturals Super Enzymes can help you and if it will be an effective solution to Irritable Bowel Syndrome (IBS).
Formula
Digestive enzyme blend – 567mg
Peppermint – 10 mg
Ginger – 10mg
Fennel – 10mg
Hydroxypropyl Methylcellulose (HPMC)
Microcrystalline Cellulose
Magnesium Stearate
Nested Naturals Super Enzymes contains a blend of 11 digestive enzymes and also added soothing herbal extracts that are designed to work together for your maximum benefit. This combination of ingredients helps the body break down meals more easily. It does not contain any preservatives or artificial substances. We are concerned about the effectiveness of the product as it does not contain BioPerine which helps with absorption. Furthermore, the amount of peppermint and ginger seems very low and might also not be effective.
Instructions
The manufacturer recommends that users take one vegan capsule daily with water as needed. These instructions will leave a user in doubt. There is no indication as to the limit of capsules per day and if it should be taken with a meal or not. Furthermore, the manufacturer does not provide the user with the best time of day to take the capsule. Instructions like this could lead to the product either not being effective as too little is taken, or it may lead to an overdose which is dangerous for your health.
Cost
Nested Naturals Super Enzymes can be purchased online from the manufacturer's website. A single bottle of 90 capsules will cost $27.95. It is quite unfortunate that this is the only place to purchase the product and that the manufacturer does not provide a discount.
Guarantee
The manufacturer offers a lifetime money-back guarantee on all their products. One may open the product and use the content. If you are not satisfied with the product, you may keep the bottle and you will be fully refunded at any time. This is a strong guarantee and the manufacturer must really be confident in their product to set such a solid return policy.
Nested Naturals Super Enzymes Review – The Bottom Line
Nested Naturals Super Enzymes has provided us with a few positive aspects. The manufacturer offers a lifetime return policy on all products used. The product also contains digestive enzymes that will help with the digestive process.
Unfortunately, there are also a few negative aspects about the product that we need to address. First of all, it does not contain BioPerine which will help with absorption. Furthermore, it does not seem to contain enough peppermint and ginger, which may render the product ineffective. Lastly, the manufacturer does not offer their clients with a discount and it can only be purchased from their online store. These reasons lead us to believe that the product may not be effective. An alternative to Nested Naturals Super Enzymes is recommended.
Reviewed & delivered by our panel of experts at Reviewy.