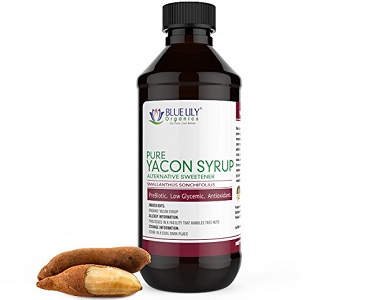 Yacon
Updated November, 2023
---
Blue Lily Organics Yacon Syrup Review
---
Manufacturer's Claim
This review examines Blue Lily Organics Yacon Syrup. Yacon syrup is the latest low-calorie sweetener to make a splash in the world of diet and weight loss. With countless types of Yacon syrups available on the market and artificial sweeteners chalk full of harmful chemicals, consumers looking to lose weight want to make sure that they are getting the best and most authentic type of natural syrup. Aside from acting as a healthy, low-calorie sweetener, Yacon syrup has a multitude of benefits like weight loss, an improved immune system, detox for our bodies and can improve hair and skin. Blue Lily Organics Yacon Syrup is rich in antioxidants, 100% vegan and organic, is non-GMO and has an excellent pre-biotic with a low glycemic index. Studies have shown that it does assist with weight loss. One such study found that after a trial period of 120 days, women who had tried Yacon syrup had lost more weight as opposed to the placebo group who even gained some weight in the same time period. These women also found improvements in their metabolic health while the placebo group stayed the same. With statistics like these, Yacon Syrup is a product we are enthusiastic about and excited to see if Blue Lily's is a good option because anybody who has ever been on a diet knows the struggles of having their food taste good without compromising their weight loss goals.
Formula
The only ingredient found in this product is 100% Yacon syrup. However, the label does not really disclose the ingredients, rather the nutritional information.
Instructions
Blue Lily Organics Yacon Syrup recommends using 2 teaspoons per serving and using the syrup as a sweetener replacement in a variety of foods or drinks like tea, yogurt, oatmeal and more.
Cost
Blue Lily Organics lists one 8 oz. bottle of Yacon Syrup for $16.99. However, the manufacturer is currently out of stock on their website. This product is also only available to those in the US.
Possible Side Effects
Blue Lily Organics does not list any side effects for Yacon Syrup on their website. We have found in our research reports of mild side effects such as flatulence, bloating, nausea and digestive discomfort.
Guarantee
Blue Lily Organics offers a 30-day money back guarantee.
Blue Lily Organics Yacon Syrup Review – The Bottom Line
With so many inflated prices for Yacon Syrup and low-calorie sweeteners in general on the market, we were satisfied with Blue Lily Organics Yacon Syrup's reasonable price for an 8 oz. bottle and that they offer a 30-day money back guarantee. We would have liked to see more information about what sets Blue Lily Organics Yacon Syrup apart from similar products. Their website offers limited information and it required us to conduct further research from outside sources to find out more information about the benefits and risks of Blue Lily Organics Yacon Syrup. We were concerned that we were unable to find any positive reviews on their official website or other secondary sources. With so many options for Yacon Syrup available to chose from, we would feel comfortable investing in a Yacon Syrup that has more testimonials available of happy consumers.
Reviewed & delivered by our panel of experts at Reviewy.