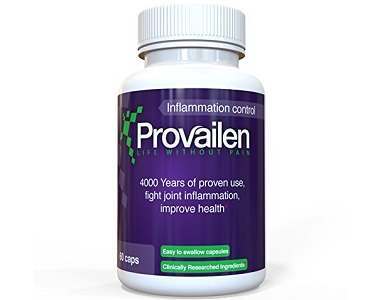 Joints
Updated September, 2023
---
Provailen Review
---
Manufacturer's Claim
This review examines Provailen, a pain reliever treatment plan that claims to eradicate pain associated with joint pain and arthritis. Since the product also claims to be 100% pure and natural, the manufacturer argues that Provailen not only targets the pain (symptoms) but also the source, giving you the maximum benefit. Nothing is more important than your health. That is why we took the responsibility of reviewing this product to find out if it's worth your investment. Read on and see what we have for you.
Formula
Reishi fungus (Ganoderma lucidum), improves adrenocortical functions to keep your immune system balanced and vigorous so that free radicals do not attack your joints to cause pain. Tongkat Ali has a strong medicinal value most importantly to remove and prevent potential muscle atrophy (weak, small muscles that are not in use). The capsaicin is added to the formulation to enhance the absorption of the other two ingredients. Capsaicin also has receptors that increase blood flow to the restricted smaller blood vessels found in joints and damaged tissue.
Instructions
For the best results, Provailen recommends a dosage of one capsule twice a day; one in the morning and the other in the evening. If you are already taking arthritis medications, this supplement does not interfere with your prescription's efficacy.
Cost
It is possible to order your Provailen package online. By signing up for the purchase of the product on the manufacturer's website, you are signing up for a free 14-day trial. If don't cancel this order within 14 days of receiving the product, you will automatically be charged $59.95. You will then automatically receive Provailen every 30 days and automatically be billed this price.
Possible Side Effects
So far no consumers have reported any side effects. Also, this formulation is 100% pure and natural meaning that the risk of adverse reaction is minimal.
Guarantee
Provailen comes with a 30-day manufacturer's commitment. The countdown, however, starts from the day of purchase and not delivery; keep that in mind. Unfortunately, you can only return closed bottles, so it is unclear how this will work when it comes to trying the product, as you also get a free trial for 14 days. Also, we discovered that returning Provailen may be more expensive and there may be many overhead costs and fees. All in all, their return policy is very limiting.
Provailen Review – The Bottom Line
After thoroughly reviewing Provailen, we conclude that it does not seem to be so bad. The 3-in-1 formulation has for a long time been used to relieve joint-related problems and improve overall health.  It also comes with a 30-day guarantee, however, this looks like more of a downside than an advantage.
We found it upsetting that when signing up for a free trial, you have to remember to cancel it within 14 days if you don't want the product again, or you will be charged. Which means it is not really a free trial. On top of this, if you want to take advantage of the money-back guarantee, you can only return closed bottles, which also does not allow you much chance to try the product. Additionally, returning your order may work out more expensive than ordering it. We believe there are better options available on the market.
Reviewed & delivered by our panel of experts at Reviewy.