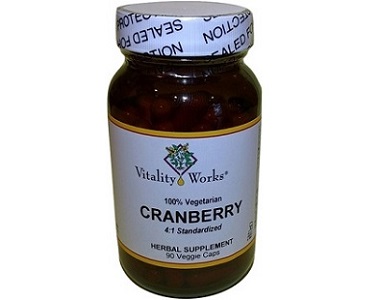 UTI
Updated October, 2022
---
Vitality Works Cranberry Review
---
Manufacturer's Claim
This is a comprehensive review of Vitality Works Cranberry to provide you with facts you need to know about this product. The product has been designed to help support a healthy urinary tract. Keep on reading to see what ingredients are used in Vitality Works Cranberry and if it is a product to consider.
Formula
Vitality Works Cranberry contains cranberry as the main active ingredient. Other ingredients include modified vegetable cellulose, omega 3 from flaxseed, and silica. In comparison with other products, this product is lacking a crucial ingredient, which could affect the product's effectiveness. It will not be able to provide a dual-action formula of soothing relief and long term prevention. Furthermore, it does not contain D-Mannose or Lingonberry. Lingonberry combined with cranberry provides a powerful antioxidant as well as antimicrobial properties. Due to the lack of these clinically proven ingredients, the product may not be as effective as other products.
Instructions
The label on the product recommends that users take 1 capsule about 1 to 3 times a day. It can also be taken as directed by a healthcare professional. With this information the user does not know if they must take the product on an empty stomach or with a meal. It is important that the user knows exactly when and how to take the supplement. Lack of this information may result in the product not being effective.
Cost
The product can be purchased online from the manufacturer's website. The original price per bottle of 90 veggie capsules is $19.99. It is currently on sale for $9.95. It is always nice to see a sale, however, even the original price is very low in comparison with other products. This may be an indication that the manufacturer is no longer confident in the effectiveness of the product and that they have put the price really low to up the sales.
Guarantee
The manufacturer backs their products with a 60-day money-back guarantee. If you are not satisfied with the product, for any reason, you may return it for a full refund. However, this is only for unused products. Only one opened package of any product will be refunded. All other products that are the same as the opened product must be sealed to receive the refund.
Vitality Works Cranberry Review – The Bottom Line
Vitality Works Cranberry seems like a promising product at first due to the fact that the manufacturer provides the customer with a 60-day money-back guarantee on unused products and one used product.
However, when taking a closer look at the supplement, we also found a few things that we do not like about the product. Firstly, it does not contain essential clinical proven ingredients. The absence of these will result in a less effective supplement. Furthermore, the manufacturer does not provide enough information concerning the dosage of the supplement. Finally, the product is priced very low and may be due to lack of confidence in the effectiveness of the product or even low-quality ingredients. Due to these reasons, we are unable to recommend Vitality Works Cranberry. There are alternative UTI supplements that will provide more benefits than this product.
Reviewed & delivered by our panel of experts at Reviewy.