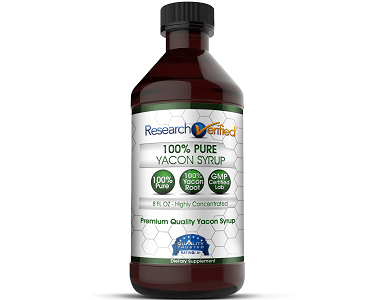 Yacon
Updated November, 2023
---
Research Verified Yacon Syrup Review
---
Manufacturer's Claim
The following is our unbiased review of Research Verified Yacon Syrup. Research Verified Yacon Syrup is a supplement made to aid fast weight loss. The supplement works by significantly enhancing the metabolic rate and as a result, your body burns fat more rapidly and effectively.
Research Verified Yacon Syrup also claims to be the only Yacon-based supplement that does not contain adulterated ingredients. The claim is that this supplement is 100% pure, with no binders or fillers to water down the main active ingredient.
Formula
Research Verified Yacon Syrup contains only Yacon root extract. Yacon is a herbal plant native to South America's Andes mountains. The plant's roots look like sweet potatoes but it's the juices from these roots that are key. The juice in the roots is extracted naturally, filtered, and bottled with natural preservatives.
In addition to its weight loss properties, Yacon syrup is also widely used as a natural sweetener and a healthier alternative to normal sugar.
The syrup contains 50% fructooligosaccharides (FOS), which is the compound that powers the massive fat loss. Apparently, a concentration of 50% FOS is necessary for any Yacon-based supplement to be effective.
According to clinical studies in rats, friendly bacteria in the large intestine feed on the indigestible sugar molecules in Yacon syrup – fructooligosaccharides – to produce short-chain fatty acids that have potent fat loss properties. This effect is said to be similar in humans and is the basis for this supplement's weight loss properties.
Instructions
The recommended dosage is 3 teaspoons of Yacon Syrup every day, preferably before meals. It is advised to take one teaspoon three times a day. This makes it 15ml of supplement daily. Note that this is the maximum daily dosage and you shouldn't exceed 3 teaspoons a day.
Cost
To buy a bottle of Research Verified Yacon Syrup, you will have to pay $48. However, there are discounts offered for the more bottles you buy. When buying 6 bottles, you will only need to pay $33 per bottle. You can also buy three bottles for a total cost of $120.
Possible Side Effects
By and large, Yacon syrup is safe at normal doses. However, taking the syrup in higher doses (particularly those that exceed the daily recommended 15ml) can lead to excessive gas production in the gut, leading to stomach discomfort. As such, it's advisable to start with a small dose and then work your way to 15ml a day if no issues arise. Pregnant women and children under the age of 18 should keep off this supplement.
Guarantee
Another positive attribute of this supplement is the generous 365-day money back guarantee offered with every purchase. This is no doubt a solid vote of confidence for the product. Research Verified puts a lot of effort into their manufacturing as you can see in various Research Verified detailed reviews.
Research Verified Yacon Syrup Review – The Bottom Line
Overall, we think that Research Verified Yacon syrup is worth a shot. It's wholly natural and is based around an ingredient that has backing from the science world. Add the fact that you get a whopping 365-day money back guarantee and you have no reason not to try out this supplement.
Reviewed & delivered by our panel of experts at Reviewy.