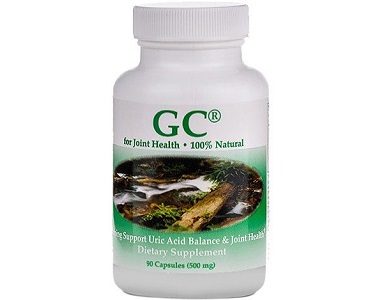 Gout
Updated December, 2021
---
Gout Cure Gout Care Review
---
Manufacturer's Claims
This product claims to be scientifically formulated with organic pharmaceutical grade ingredients that assist in eliminating the build-up of uric acid that causes gout. Gout Care claims to increase the bodies ability to prevent uric acid from crystallizing by using natural ingredients that enhance your digestive systems ability to remove the excess production of uric acid. The manufacturer also claims that this product can help lower cholesterol and that it is an anti-inflammatory. This is an informed product review for Gout Care that will provide you with the facts on this product.
Formula
Yucca Stalk – 525 mg
Aged Garlic – 300 mg
Artichoke Powder – 300 mg
Milk Thistle (Silymarin) Extract 80% – 225 mg
Turmeric Powder – 150 mg
Yucca root is used as an anti-inflammatory. Aged garlic reduces high blood pressure, cholesterol and is also an anti-inflammatory. Artichoke powder promotes liver and digestive system function. Milk thistle assists with detoxing the body. Turmeric powder is used as an anti-inflammatory.
Instructions
The manufacturer recommends that three capsules are taken per day at separate times. This product can be taken with or without meals, however, the manufacturer advises that you should consume sufficient water throughout the day and that you can also be taken with fresh orange juice or orange slices to assist the kidneys with clearing out excess uric acid.
Cost
This product can be purchased online for $22.95 for a bottle containing 30 capsules. They also have a package deal for three bottles listed at $66.00 and then six bottles listed at $126.00. These are all sale prices and the usual cost per bottle is listed at $24.95.
Guarantee
The manufacturer offers a full money back guarantee within 100 days of purchase, they also recommend that you should use this product for at least three months before deciding to return it. This product does seem to have some good customer reviews available on their speedy shipping.
Gout Cure Gout Care Review – The Bottom Line
Gout care does seem to have some good ingredients that may be beneficial for gout problems by helping the digestive system remove excess amounts of uric acid. We like that this product is guaranteed by the manufacturer with a full money back guarantee, however, this product seems to take a long time to start showing results with some people which could be worrying. They also do not have many good customer reviews that say anything about the product actually working and only state that the product has very fast shipping. This product also claims to be formulated using only natural ingredients. There are other similar products available that have proven to be effective in the treatment of gout that not only have full money back guarantees but also, an outstanding amount of great customer reviews available. It may be a good idea to look around when choosing a product that will help assist with the uric acid levels that cause gout.
Reviewed & delivered by our panel of experts at Reviewy.