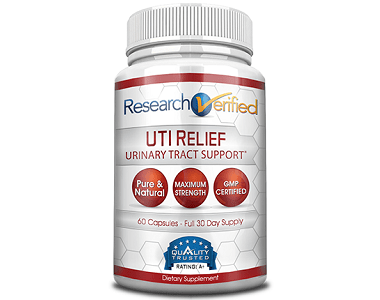 UTI
Updated September, 2023
---
Research Verified UTI Relief Review
---
Manufacturer's Claim
The following is a review of the supplement called UTI Relief manufactured by Research Verified. UTI Relief is a natural supplement designed for the management of all ailments that affect the urinary system. The supplement treats infections located in the kidneys, bladder, or urethra.
According to claims, UTI Relief relieves painful symptoms of urinary tract infections but also attacks the root cause of the symptoms. It also prevents the further spread of the infection and this dual-action approach makes it a particularly reliable UTI solution.
Formula
UTI Relief comprises a mixture of fruit and herbal extracts that provide healing, soothing, and preventive properties. Here is the list:
Cranberries contain a healthy amount of antioxidants that fight against UTIs. Their potent healing properties stem from the A-type proanthocyanidins flavonoids that have strong anti-bacterial properties especially against E Coli bacteria that is associated with most UTIs. Lingonberries are rich in antioxidants and have anti-microbial properties thanks to the high amounts of benzoic acid it contains. The leaves of this super-fruit also contain high amounts of bioactive compounds with strong antibacterial properties. D-Mannose, similar to glucose, is a fruit-derived simple sugar that facilitates metabolism, but it has a unique composition and method of absorption that makes it potent against UTIs. Berberine is a historical medicinal herb known for its broad-based antibacterial properties. Uva Ursi is another traditional herb used for years by Native American tribes for treating UTIs. Read this Research Verified full review to learn more about the lengths they go to when formulating their products.
Instructions
The recommended dosage is 2 capsules per day. However, if you're suffering from a UTI, you can take up to 6 capsules per day; two in the morning, two in the afternoon, and two in the evening.
Cost
UTI Relief costs $48 per bottle containing 60 capsules. This price is in line with other top supplements of this quality that we've reviewed.
You can save up to 53% when you buy 3 bottles at $33 per bottle. You can get an even bigger discount when you purchase 6 bottles for $24 per bottle.
In addition to the usual credit cards, you can also pay using PayPal credit, another first we've seen for products we've reviewed.
Possible Side Effects
There are no known side effects of UTI Relief, which is not surprising given that the main ingredients are fruit extracts.
Guarantee
There's a 365-day money back guarantee offered with every purchase of this supplement. That's one full year to test out the product risk-free and decide whether it is worth your money. This is the most generous money back guarantee of any supplement we've reviewed thus far.
Needless to say, it is a huge vote of confidence for the product and just goes to show how much faith the makers have in their product.
Research Verified UTI Relief Review – The Bottom Line
From the onset, there's no doubt that UTI Relief is serious about eliminating all infections affecting the urinary tract system. It is reassuring to know that the supplement is vouched by a trusted review company that caters to consumers who demand high quality products at reasonable prices (uses a rigorous, transparent review process).
One of the biggest votes of confidence for this supplement is the full year moneyback guarantee. We've not seen this anywhere else and every prospective buyer should feel 100% confident when purchasing this product. We absolutely recommend it.
Reviewed & delivered by our panel of experts at Reviewy.