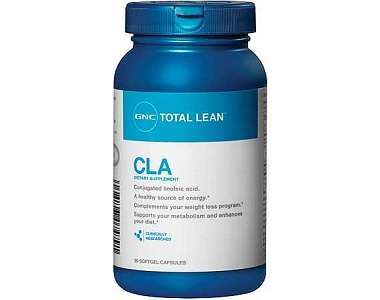 CLA
Updated July, 2020
---
GNC Total Lean CLA Review
---
Manufacturer's Claim
While writing this GNC Total Lean CLA review, we found this product is claimed, by the manufacturer, to do exactly the same things most CLA supplements claim: maintain lean body mass, support your weight loss diet and overall health. This is an ingredient which has been shown to be beneficial to those who are looking to lose weight, shape their bodies, or speed up their metabolism. It seems like a fairly basic option, but we asked ourselves: Should you chose it?
Formula
Conjugated Linoleic Acid (CLA) – 2,000mg (quantity per 2 softgels). The only active ingredient found in GNC Total Lean CLA Softgel Capsules is 1000 mg of CLA per softgel. This is an ingredient that has been, as noted, shown to help with weight loss and a boost to the metabolism. It is a common supplement to take if you are dieting or bodybuilding. The other two ingredients, glycerin and gelatin, are completely inert, and are only a part of the softgel capsule itself. The only ingredient listed with a quantity is the CLA.
Instructions
The instructions for this product are fairly simple. As with any medication, supplement or vitamin, you should always ask a medical professional if you are concerned with taking this product. Do not exceed recommended dosages unless instructed to do so by your physician. Otherwise, adults may take two softgels once or twice per day. This product is only to be used by adults; it is not suitable for children.
Cost
The standard price for one 90-count bottle of GNC Total Lean CLA Softgel Capsules on the product website was $29.99, at the time we wrote this article. Their auto-refill program comes in at 10% under the one-off cost but then you are charged for and shipped additional product regardless of whether you wanted it. Single bottles were also available on Amazon for $44.99.
Possible Side Effects
There are no known side effects to taking a CLA supplement as long as taken by adults who aren't pregnant or nursing, and who follow dosage recommendations. However, if you have pre-existing medical conditions, or are simply worried about the effects this medication might have, speak to a medical professional before taking.
Guarantee
We could not find a money-back guarantee, or even a return policy on the manufacturer's website. While obviously not ideal, it seems that it is not uncommon for CLA products to come without a money-back guarantee.
GNC Total Lean CLA Review – The Bottom Line
We rate GNC Total Lean CLA Softgel Capsules as an average, at best, CLA supplement. Amazon customer ratings, while mostly positive at the time of our review (74%) had a significant minority of negative ratings (22%) . In addition, this product makes no claims whatsoever that distinguish it from many other offerings in the crowded CLA supplements segment. All else being equal you should be able to find a less expensive offering.
Reviewed & delivered by our panel of experts at Reviewy.