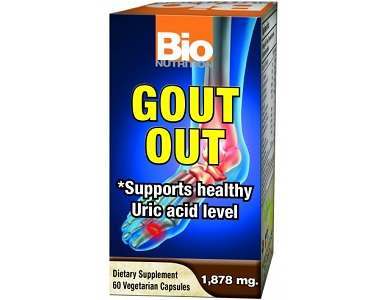 Gout
Updated June, 2023
---
Bio Nutrition Gout Out Review
---
Manufacturer's Claim
This is a review of Bio Nutrition's Gout Out, a dietary supplement designed to balance uric acid levels in the body. Gout Out is made up from a mix of natural food and vitamin extracts. It is most effective when taken as a precautionary supplement prior to any uric acid flare ups, however, it is said to also be productive in treating an outburst of unnatural levels of uric acid that cause the discomfort of gout. Read our review below to find out more about this product.
Formula
Vitamin B1 (Thiamine) – 2 mg
Vitamin B5 (Pantothenic acid) – 10mg
Vitamin B6 (Pyridoxine) – 5mg
Vitamin B12 (Cobalamin) – 100mcg
Folic Acid – 400 mcg
Vitamin C (non acidic) – 60 mg
Black Cherry Extract (Freeze dried 4:1 extract) – 500 mg
Celery Seed Extract – 500 mg
Alfalfa – 500 mg
Boswellia (65%) – 100 mg
Devil's Claw (extract 4:1) – 100 mg
Turmeric (providing 95% curcumin) – 100 mg
Other Ingredients:
Silica
Vegetable stearate
Vegetable cellulose (capsule)
The main ingredients in Bio Nutrition's Gout Out are natural extracts from fruits and plants. Cherry and celery, in natural form, are known to be effective in battling rising uric acid levels in the body, dissipating some of the buildup of excessive levels in the joints which are known to lead to gout.
Instructions
It is recommended that one take three capsules of Bio Nutrition Gout Out throughout the day: one in the morning, one later on in the day, and one before bedtime. It is important to take the capsules with water.
If a flare-up of gout caused by uric acid occurs, it is suggested to take three capsules at each three intervals throughout the day. Of course one should consult their doctor before doing so.
Cost
According to the Bio Nutrition website, one can order and purchase a bottle of Gout Out from the source for $19.95 not including shipping and handling. A bottle of Gout Out contains 60 capsules, which means that if taken according to the recommended dosage, it should last for a 20-day period.
Guarantee
The Bio Nutrition website claims that it can only guarantee money back on their products if it is in the original, unopened packaging, along with the receipt, within a 30-day time limit.
Due to this very specific way in which returns must be made, this may be a sign that the product is not the most reliable.
Bio Nutrition Gout Out Review – The Bottom Line
It is exciting to know that Bio Nutrition Gout Out is made up of natural ingredients. Supplements that are usually composed of natural ingredients tend to have little to no side effects and can be taken along with other supplements and medicine. It is also a relatively inexpensive and over-the-counter way to help deal with the pain and irritation that comes with unbalanced levels of uric acid, leading to gout.
However, this product does not endorse using their capsules in order to eliminate the problem. Though they claim to help with preventing and relieving uric acid outbreaks, one may have to constantly use Bio Nutrition Gout Out to no avail. The website of the manufacturer claims to not guarantee the return of opened products, which may mean that they do not fully believe that their product will work. Though one may be interested in trying Gout Out to help them with their uric acid gout issues, it is best to consider other options before purchasing a bottle that cannot be returned.
Reviewed & delivered by our panel of experts at Reviewy.