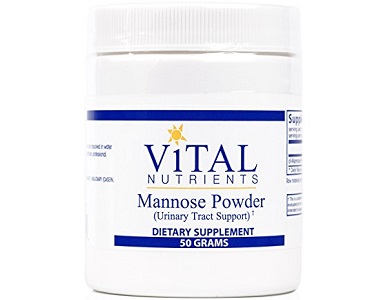 UTI
Updated November, 2023
---
Vital Nutrients Mannose Powder Review
---
Manufacturer's Claim
The following is a review for Vital Nutrients Mannose Powder. This urinary tract support dietary supplement of 50 mg claims to be a naturally occurring monosaccharide (any of the class of sugars that cannot be broken down by a chemical reaction with water in order to give a simple sugar). The manufacturer also claims that this product helps to maintain a healthy mucosal lining in the urinary tract which is able to stretch significantly in order to help accommodate large volumes of urine.  It also supports the integrity of the epithelial cells in the genitourinary tract (the system of organs comprising those concerned with the production and excretion of urine and those concerned with reproduction).
Formula
This product in its entirety consists of 50mg D-Mannose powder. Its serving size is 1 teaspoon equated to 2 grams. The amount per serving is 2000 mg and there are 25 servings per container. D-Mannose is a type of sugar that is related to glucose. It is used for preventing urinary tract infections (UTIs). This product excludes coatings, binders, gluten (wheat, rye, barley), milk/dairy, soy protein, egg protein, and sugar.
Instructions
Vital Nutrients Mannose Powder is to be taken as one-quarter, one-half, or up to one teaspoon (2g) 1 to 3 times a day dissolved in water in between or with meals, or as directed by your doctor. It is a pleasant mildly sweet tasting powder.
Cost
This product costs $39.10. This is the average price for such a product.
Possible Side Effects
D-Mannose can cause bloating, loose stools, and diarrhea. When taken in excessive doses, there is concern that it can lead to kidney damage. You are not to take the product if you are pregnant or breastfeeding. One must speak to your doctor before starting such a product, especially if you are on other medications.
Guarantee
All returns require a Return Authorization Number (RAN) and are only considered for customers who purchase directly from them. If you purchase from healthcare practitioners and return it unopened and within 30 days from purchase it may be returned, with a 25% restocking fee. If wanting to return a product due to its quality, the problem at hand needs to be evaluated by customer care. For damaged packages, you will need to contact customer care.
Vital Nutrients Mannose Powder Review – The Bottom Line
The benefit of ingesting D-Mannose in powder form is that you are only ingesting D-Mannose. There are no other things included such as the gelatin received when taking it in capsule formula. It's great to find a D-Mannose powder product as most are offered as capsules. The price also isn't too steep. On the downside though, the company sees complaints of reactions by customers as idiosyncratic, possibly triggered by many different circumstances and for this reason alone will give no credit.  There is no straight guarantee and it seems returning the product for any reason requires much effort and a high probability that you will not receive your money back. For this reason, we would not make this our first choice when purchasing a Mannose powder. We want products from a company that is very confident in their products. Without a proper guarantee, too many queries are raised.
Reviewed & delivered by our panel of experts at Reviewy.