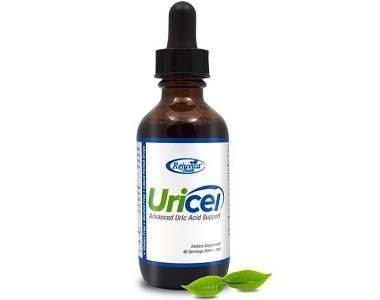 Gout
Updated August, 2022
---
Rejuvica Herbs Uricel Review
---
Manufacturer's Claim
Uricel is a product that is designed for the management of uric acid levels in the body. Find out from our Uricel review if this is worth spending money on. Uricel is described as an all-natural product that helps to regulate uric acid levels in the body. The ultimate focus of this is to prevent joint discomfort and soothe inflamed joints. The supplement also facilitates mobility. According to the manufacturer, the "finest of natively grown ingredients" that are used in this product make this possible. These ingredients were also subjected to rigorous checks before being processed in a GMP-compliant facility.
Formula
The Uricel formula features the following ingredients:
Celery seed
Yucca root
Tart cherry
Turmeric root
It is not clear what role each of these ingredients play in fighting pain, inflammation, and regulating uric acid levels. However, some of these ingredients are common in other gout treatments.
Other ingredients include:
Vegetable glycerin
Purified water
Instructions
The recommended dose of Uricel is a quarter of a teaspoon (1.23 ml). You are to take it this way up to three times a day, or as required. The preparation can be used as is or mixed with water before use. You should begin to feel the effect immediately, according to its maker. The ability of this remedy to work effectively is tied to your water intake. You will need to drink a high amount of water for the entire time you use this product.
The manufacturer recommends usage for at least 30-60 days before achieving a thorough uric acid cleanse. It says that if the uric acid cleanse is not complete, the leftovers can eventually lead to a recurrence of your gout issues. It is not advisable taking soda together with Uricel.
Cost
The product is available in three packages online through the manufacturer's website:
Severe Pain
Moderate Pain
Mild Pain
The Severe Pain package, which will give you enough product for 42 days, retails for $154.85. The Moderate Pain package, which will give you enough product for 28 days, sells for $117.85, and Mild Pain package, giving you product for 14 days, sells for $54.99. The limited discounted prices for these packages are $124.90, $87.90 and $44.99 respectively. This is a very expensive product compared to other products on the market.
Each of these packages comes with a complimentary cream. This also helps to relieve joint pain and prevent or reduce inflammation. You can only buy the product online.
Guarantee
If there is anything Uricel's manufacturer wants you to know, it appears to be the availability of a money-back guarantee. You will notice this in, perhaps, the most visible part of its website. The company says you can request a refund if you do not notice satisfactory results in 60 days. You will only need to return bottles of the product – whether used or unused – to get this refund. However, shipping costs will be deducted from the refund. The company boasts that the refund rate constitutes less than 2% of total sales.
Rejuvica Herbs Uricel Review – The Bottom Line
Uricel seems to be a decent product for maintaining healthy uric acid levels and promoting joint health. Production takes place in a GMP facility and there is an impressive 60-day money back guarantee. But you may find the price somewhat on the high side. You can find comparable or possibly better products at cheaper prices. And although considered very safe, you may not be able to totally rule out interactions with medications you may be on. It is always advised to talk to a doctor before using this type of product.
Reviewed & delivered by our panel of experts at Reviewy.