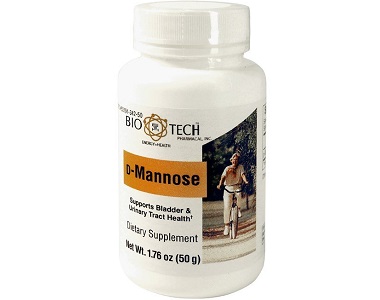 UTI
Updated December, 2021
---
Biotech Pharmacal D-Mannose Review
---
Manufacturer's Claim
The following review is for a dietary supplement called D-Mannose, manufactured by Biotech Pharmacal. Urinary Tract Infection, also known as UTI, can cause a lot of pain and discomfort. The manufacturer claims that this supplement can help support bladder and UTI health, whilst not interfering with blood sugar regulation. It is formulated with pure ingredients and it is available in capsules and powder form. Below you will find more information about Biotech Pharmacal D-Mannose to help you make a clear decision about this UTI supplement.
Formula
The main active ingredient in Biotech Pharmacal D-Mannose is the sugar Mannose. Ever 1/2 teaspoon of the product in powder form contains 0.9g D-Mannose. Our research on UTI supplements has however shown us that this product lacks many crucial ingredients that may affect the product's effectiveness. Firstly, the product does not have a dual-action formula for soothing relief and long term prevention of UTIs. With the D-Mannose in this product, it should also contain Lingonberry and Cranberry. These two ingredients are proven to hold powerful antioxidants and antimicrobial properties. Lack of these ingredients will result in a less effective supplement.
Instructions
The manufacturer recommends that adults take 1/2 to 1 teaspoon of product with 6 ounces of water. This should be taken 3 or 4 times a day. For maintenance, take 1/2 to 1 teaspoon with 6 ounces of water once a day. Children are suggested to take 1/4 to 1/2 teaspoon dosage.
Cost
A single bottle of 50 grams provides 56 1/2 teaspoons or 28 full teaspoons of product. It will cost $31.98 and can be purchased online from the manufacturer's website. This is a reasonable price, however, the manufacturer does not offer a discount and there are no bundle deals made available.
Guarantee
A 30-day money-back guarantee is offered when you make a purchase from Biotech Parmacal. Products which are returned sealed and in their original packaging will be subject to a 20% restocking fee. Unfortunately, the manufacturer does not indicate if the product may be opened and used. You may return a used product and a refund may be refused. It is best to purchase a product from a manufacturer that provides all the necessary information.
Biotech Pharmacal D-Mannose Review – The Bottom Line
After our review of Biotech Pharmacal D-Mannose, we have found a few things that we like about the product. The manufacturer provides clear instructions on when and how to take the product.
However, there were many more things about the product that we do not like. First of all, it does not contain key ingredients that are essential for an effective UTI supplement. As a result, the product will not be as effective as other products that do contain these ingredients. Furthermore, you will not be able to purchase a product with a discount or in a more cost effective bundle deal. Lastly, the manufacturer backs their product with a very weak guarantee. Due to the reasons mentioned above, we do not recommend Biotech Pharmacal D-Mannose as an effective product. You are better off choosing an alternative supplement that contains clinically proven ingredients and provides a solid guarantee.
Reviewed & delivered by our panel of experts at Reviewy.