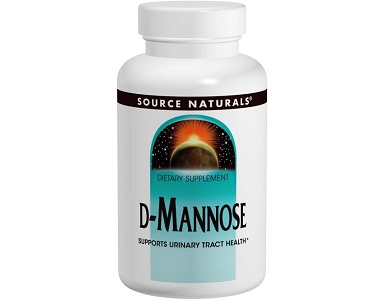 UTI
Updated November, 2023
---
Source Naturals D-Mannose Review
---
Manufacturer's Claim
It is estimated that one in every two women will experience a UTI in her lifetime and for 20% of them, UTIs will be recurring. Although UTIs mainly affect women, men are also susceptible to them. Symptoms like painful urination, bloody or cloudy urine and nausea and vomiting, can make living day to day life with this infection hard. This can leave anybody experiencing a UTI in the market for a product that can alleviate the symptoms and prevent future infections from occurring. This review is going to examine Source Naturals D-Mannose, which is a natural solution for UTI prevention. Source Naturals claims that their product supports the health of the urethra, bladder, ureter, renal pelvis, and the renal parenchyma. D-Mannose is a monosaccharide hexose sugar that is naturally found in trees and fruits.
Formula
Other Ingredients: Gelatin (capsule), maltodextrin, dibasic calcium phosphate, silica, and magnesium stearate.
D-Mannose is a naturally occurring sugar, related to glucose, that is found in fruits. It is believed to fend off UTIs because it prevents the most common UTI inducing bacteria, E.coli,  from sticking to each other and multiplying. Another theory is that it prevents the bad bacteria from sticking to the uterine wall, making it easier for it to be excreted in the urine.
Instructions
Source Naturals recommends taking one capsule twice daily.
Those who are under medical supervision, pregnant or nursing should consult with their healthcare provider before consuming this product.
Cost
This product is available to purchase on the manufacturer's website in different amounts per bottle. One 30 capsule bottle is $12.75, one 60 capsule bottle is $23.98 and one 120 capsule bottle is $46.50.
Possible Side Effects
The manufacturer does not list any possible side effects. Taking an excess amount of D-mannose can cause you to become bloated, have loose stools and diarrhea.
Guarantee
The manufacturer does not offer any money-back guarantees.
Source Naturals D-Mannose Review – The Bottom Line
This D-Mannose supplement appears to be decent. It comes in easy to swallow capsules that contain a decent dosage of D-Mannose per serving. However, the manufacturer offers nearly no information about this product. Their website is limited and does not contain enough information for us to know what, if any, risks or benefits this product has to offer. D-Mannose only defends the body from E.coli bacteria, which causes 80% of UTIs but can still leave you susceptible to other bacteria that manifest into infections. For this reason, experts recommend taking D-mannose in conjunction with a cranberry supplement for complete protection from infection-causing bacteria. In our research of UTI prevention products, we have encountered several that contain a sufficient dosage of both D-Mannose and cranberry. Taking Source Naturals D-Mannose would require adding additional supplements to your routine. When we inquire about a product we always look for an upstanding and straightforward manufacturer's guarantee because it speaks to the integrity of the product but Source Naturals does not offer any sort of satisfaction money-back guarantee.
Reviewed & delivered by our panel of experts at Reviewy.