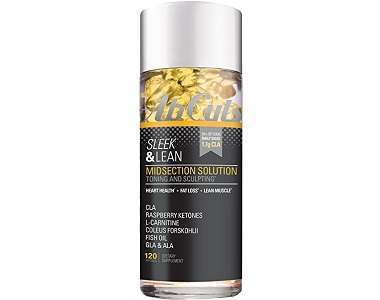 CLA
Updated October, 2022
---
Ab Cuts Sleek & Lean Midsection Solution Review
---
Manufacturer's Claim
This review of Ab Cuts Sleek & Lean Midsection Solution examines this CLA (conjugated linoleic acid) product which claims to reduce body fat, increase lean muscle, and improve muscle tone. The manufacturer does not provide much information beyond this point. CLA is a well-known supplement that is designed to provide users with a way to lose weight without losing muscle tissue. This should keep you looking toned and fit while also maintaining your weight. Ab Cuts Sleek & Lean Midsection Solution contains other ingredients to help with its weight loss effects and it is stimulant free. The manufacturer states that it is a good way to supplement a healthy lifestyle along with a healthy diet and exercise.
Formula
This product contains a 2270mg blend of the following:
Safflower Oil (Standardized to 80% CLA)
Fish Oil
Borage Oil
Sesame Seed Oil
Coleus Forskohlii (Standardized to 10% Forskolin)
The problem with blends is that was can't know how much of each ingredient is in the product. Though, the manufacturer does specifically mention the amount of CLA in the product – 1700mg. The CLA is derived from Safflower oil which is the optimal choice. CLA increases metabolism to help the body burn fat while at the same time increasing muscle strength. The manufacturer has not provided any information as to why the other ingredients are included. We know that forskolin and raspberry ketones are other popular weight loss ingredients, but borage oil is generally used for inflammation and treating skin problems.
Instructions
It is recommended to take 2-3 capsules with each meal for a total of 6-9 capsules a day. You should take 2-3 capsules with breakfast, 2-3 capsules with lunch, and 2-3 capsules with dinner.
Cost
One bottle contains 120 softgels which will not provide a full month's supply, making this product a very expensive choice at $59.99 a bottle. You can buy this product directly from the manufacturer's website or from other online retailers. The manufacturer's website does not offer any bulk-buying discounts which is a big drawback with such a high-priced product.
Possible Side Effects
The manufacturer has not mentioned any side effects with this product. The product's label states that this product is manufactured in a facility that also processes soybean and wheat products, so those with allergies, beware. This supplement is not for use by pregnant and breastfeeding women and children under the age of 18. If you are taking any medications, it is important to speak to your doctor before taking this product.
Guarantee
Ab Cuts offers a 90-day money back guarantee if you are unsatisfied with the product. Though they only offer the guarantee if you bought the product directly from them – they won't refund bottles bought from other retailers. They don't state what condition the bottles need to be in to be returned.
Ab Cuts Sleek & Lean Midsection Solution Review – The Bottom Line
This product seems to be a good product to help you lose weight, containing a good amount of CLA. However, there are some ingredients included which the reason is not very clear. The manufacturer has also not provided an explanation as to why the additional ingredients have been included. The product is also very pricey considering you will not get a full month's supply out of it. We recommend looking for an alternative product.
Reviewed & delivered by our panel of experts at Reviewy.