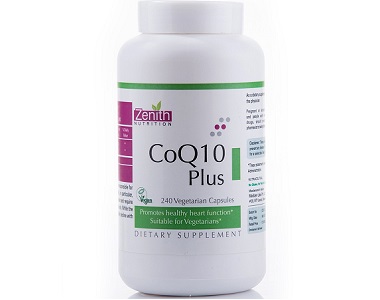 CoQ10
Updated February, 2023
---
Zenith Nutrition Coenzyme Q10 Plus Review
---
Manufacturer's Claim
It is claimed by the manufacturer that this product supports heart health. Also, this dietary supplement is claimed to be helpful for cellular energy. It is a strong antioxidant, which can replenish CoQ10 damaged by statin drugs. This type of drug not only inhibits cholesterol but also CoQ10.  What is to follow is a review on this product – called Coenzyme Q10 Plus.
Formula
The additional ingredients within the formula are vegetable gelatin, magnesium stearate, dicalcium phosphate (anti-caking agent (341 i )), class ii preservatives 218.
Studies have shown that CoQ10 can help support a healthy heart and lower blood pressure. It is an antioxidant that protects cells from damage by free radicals. Also, this substance helps to inhibit the production of cholesterol in the liver. This substance can help to unblock arterial blockage, thereby facilitating better blood flow to the heart: this substance enhances heart health. However, this formula contains preservatives.
Instructions
The manufacturer of this health product states that one (1) capsule should be taken each day or as per instruction of a health-care professional. However, no mention is made of when the capsules should be taken, whether or not with food or liquid, or time of day, for optimal results. However, the dosage of 100 mg of CoQ10 is low. 250 mg is known to be the optimal dose per day.
Cost
A bottle containing 60 capsules is available on the manufacturer's own website at $29.17. No discounts are offered for purchase of this supplement.
Guarantee
This manufacturer of this dietary supplement offers no guarantee on this product. The efficacy of this health product does come into question. However, as it sold on Amazon (a third party site), the product is subject to the protection of that third-party site's return policy, i.e., payment may be refunded if the product is returned, unused, within 30 days.
Zenith Nutrition Coenzyme Q10 Plus Review – The Bottom Line
This CoQ10 dietary supplement claims to do what most other, similar, CoQ10 health products claim to do. Where this dietary product does stand solid is that one bottle will last for two months; each bottle containing 60 capsules and only one capsule to be taken daily. Additionally, this health product is suitable for both vegans and vegetarians. The weaknesses include the lack of a guarantee to protect the consumer; the amount of CoQ10 of 100 mg is low compared with other, similar products, and there is a lack of discounts. This product under review seems expensive compared with similar products. Lastly, this product contains chemical preservatives.  No indication is given of amount of preservatives included. A complication is that this product is made in India − permitted amount of preservatives does differ from country to country. Lastly, even though the manufacturer of this supplement does not indicate any side effects the ingredient dicalcium phosphate could be problematic: it is a possible to overdose on this, leading to kidney stones, nausea, vomiting, diarrhea, headaches or coma. Therefore, it might be better to opt for something better.
Reviewed & delivered by our panel of experts at Reviewy.