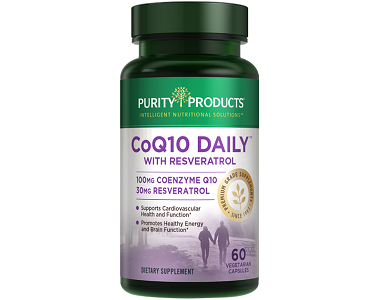 CoQ10
Updated February, 2023
---
Purity Products CoQ10 Daily with Resveratrol Review
---
Manufacturer's Claim
The review below focuses on the dietary supplement CoQ10 Daily with Resveratrol. It is claimed by the manufacturers of this supplement that it can help support brain function, as well as a healthy heart and blood circulation. Furthermore, it can promote healthy energy levels.
Formula
Two (2) capsules contain:
Vitamin A – 600 mcg
Vitamin D – 25 mcg
Vitamin E – 40.2 mg
Vitamin B12 – 300 mcg
Coenzyme Q10 – 100 mg
Trans-resveratrol – 30 mg
Other ingredients: rice bran oil, vegetable cellulose, vegetable wax, rosemary extract, and sodium copper chlorophyllin. Vitamin A helps with vision, supporting the immune system and cell growth. Vitamin E is a strong antioxidant, protecting the body against free radicals. Vitamin B12 augments brain, heart and the health of the nervous system. Vitamin D aids in strengthening the immune system, while supporting bone and heart health. Resveratrol enhances heart health. This substance interacts with cell membrane receptors, promoting a healthier heart. Moreover, it helps with the production of nitric oxide in blood-vessel linings. Lastly, CoQ10, which is a vitamin-like nutrient vital for energy production at a cellular level also supports a healthy heart and immune system.
Instructions
The manufacturer recommends that two (2) capsules be taken daily. No mention is made of whether this should be with or without food or drink; nor is time of day suggested, for optimal results. The dosage of CoQ10 within each capsule is low: one capsule contains only 50 mg of CoQ10. For optimal results, the amount of CoQ10 taken daily should be 250 mg.
Cost
The manufacturer offers this product online on their own website. There are four different package deals. A single order costs $39.95 (discounted from $54.95) for a 30-capsule bottle, excluding the standard shipping fee of $6.95. The subscription deal attracts a 27% discount, but you will be billed on your credit card at regular intervals. There is a 'buy four and get one free' deal. The unit price for each of the four bottles is $54.95, shipping fee is added. Lastly, there is a bulk-buying option.
Guarantee
Consumers are protected by the manufacturer's 60-day return guarantee. Used or unused bottles may be returned for a refund. Consumers should first call the company's customer care line to obtain a return authorization. Shipping fees are not refunded. All bulk orders are subject to a 15% processing fee, and should be returned, unopened in mint condition within 60 days of purchase.
Purity Products CoQ10 Daily with Resveratrol Review – The Bottom Line
This CoQ10 supplement includes vitamins that help to support heart, bone and immune health. The company offers a 60-day money-back guarantee. The amount of CoQ10 within each capsule is rather low (only 50 mg), this against clinically tested results that indicate 250 mg as the best amount for optimal results. Each bottle contains only 30 capsules. If the recommended dosage is two (2) capsules daily, one bottle will only last 15 days. Therefore, this product may be more expensive than others based on amount of CoQ10 in each capsule, and number of capsules in each bottle.
Reviewed & delivered by our panel of experts at Reviewy.