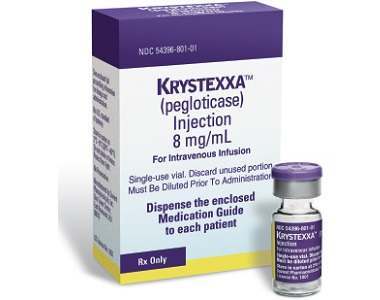 Gout
Updated June, 2019
---
Horizon Pharma Krystexxa Review
---
Manufacturer's Claim
Krystexxa is a prescription medication for individuals suffering from gout, especially those who are already running out of treatment options. It ranks among one of the most expensive products for gout. Krystexxa is recommended especially for adults who have failed to achieve desired results using other gout remedies. In other words, it is for adult patients who still have high uric acid levels and gout symptoms after using other medicines. Such an outcome is referred to as chronic refractory gout. Horizon Pharma boasts of this drug being the only one approved by the FDA for this chronic condition, however, this is a prescription medicine so this is required. Our Krystexxa review will provide all you need to know about this product.
Formula
Pegloticase is the main active ingredient in this drug. Pegloticase is an enzyme that is specifically for the treatment of chronic gout. The following also feature in the formula:
Disodium hydrogen phosphate dihydrate
Sodium chloride
Sodium dihydrogen phosphate dihydrate
Instructions
Krystexxa is meant to be taken by way of infusion. It comes with special water for this purpose. Adult patients get a recommended dose of 8 mg via intravenous infusion – that is, through a needle in the vein. The process takes about two hours and you undergo it every two weeks.
You should not use any other gout medicine while you are on this drug. Horizon Pharma says you may notice greater gout flare-ups during the first three months of use. But treatment should not stop because of this.
Possible Side Effects
Having to deal with gout attacks is a big issue with Krystexxa. But the problems do not stop there. Severe allergic and infusion reactions are among the likely side effects. The common ones include:
Bruising
Chest pain
Nausea
Sore throat
Vomiting
There are still other possible side effects that are not included in the list above.
Cost
Krystexxa looks like a product you should indeed only consider when you are out of options. It is quite expensive, although the price you can buy it is not available on its manufacturer's website. Reports have it that the price of the product was $5,300 in 2014. In the January of 2015, its new owner bumped the price to $14,000. It is not clear how much the product now will cost you and how much will be covered by your health insurance.
Guarantee
This is a prescription drug, and so it does not come with a money-back guarantee.
Horizon Pharma Krystexxa Review – The Bottom Line
This gout remedy is ideal only for adult patients who have not received much help from other remedies. Krystexxa is designed specifically for chronic refractory gout. The manufacturer also provides sufficient information on what to expect when using it. Sadly, among the things you may expect when using the medicine are some negative side effects. These include chest pain, constipation, nausea, and vomiting. The price is quite exorbitant and there is no guarantee of getting your money back if it doesn't work. You may wish to consider other products on the market or speak to your doctor about more cost-effective options.
Reviewed & delivered by our panel of experts at Reviewy.