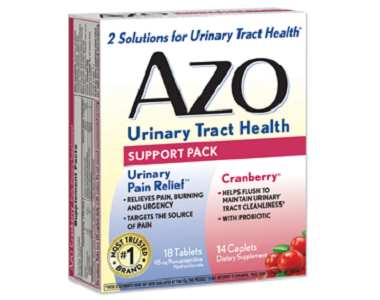 UTI
Updated September, 2020
---
AZO Urinary Tract Health Support Pack Review
---
Manufacturer's Claim
The following is a review of AZO Urinary Tract Health Support Pack. This pack is designed to have everything you need for optimal urinary tract health. It contains two products in the pack, AZO Cranberry Dietary Supplement, and AZO Urinary Pain Relief. The Urinary Pain Relief tablets are designed to offer over the counter relief of urinary pain, burning, and urgency. They claim it is proven to go directly to the site of discomfort and provide relief within 20 minutes. The Cranberry Caplets are designed to maintain a healthy urinary tract as one serving of AZO Cranberry is equivalent to one glass of cranberry juice but with the additional benefit of no sugar or calories.
Formula
The AZO Cranberry Daily Dietary Supplement's ingredients are as follows:
Vitamin C (as ascorbic acid) – 60 mg
Calcium (as calcium phosphate) – 110 mg
PACRAN Natural Cranberry Powder – 550 mg
Bacillus Coaquians – 30 mg
Other ingredients include:
Dicalcium Phosphate
Microcrystalline cellulose
Stearic Acid
Povidone
Coating (hypromellose, polyethylene glycol, triacetin and colors (titanium dioxide, FD&C Red #40 and FD&C Blue #2)
Hypromellose
Magnesium Stearate
AZO Urinary Pain Relief only contains one main ingredient which is 95 mg of Phenazopyridine Hydrochloride.
Other ingredients include:
Corn Starch
Croscarmellose Sodium
Magnesium Stearate
Microcrystalline Cellulose
Pharmaceutical Glaze
Polyvinylpyrrolidone
Pregelatinized Starch
Silicon Dioxide
Talc
Instructions
AZO Urinary Pain Relief recommends adults and children over the age of 12 to take 2 tablets 3 times daily with or after meals as needed for up to two days.
AZO Cranberry Daily Dietary Supplement recommends taking two caplets daily with water and not to exceed the recommended serving.
Those who are under medical supervision, pregnant or nursing are advised to consult with their doctor before taking either of these products.
Cost
You cannot buy this product directly from the manufacturer's website. We found AZO Urinary Tract Health Support Pack available online from a third-party website for $7.86 that includes 18 Urinary Pain Relief tablets and 14 Cranberry caplets.
Possible Side Effects
We found a few possible side effects and warnings mentioned for AZO Urinary Pain Relief on the manufacturer's website.  You should not use this product if you have a G6PD deficiency. You should consult your doctor before using this product if you have kidney disease or any allergies. When using the product, you may have stomach upset or your urine may turn reddish-orange which is not a cause for concern. Other possible side effects we came across not mentioned on the manufacturer's site include fever and confusion, shortness of breath, tightness in chest, wheezing and trouble breathing, skin rash, sudden decrease in the amount of urine, swelling of face, fingers, feet and/or lower legs, unusual tiredness or weakness, weight gain and yellow skin or eyes. If symptoms do not improve within 2 days, then stop using the product and speak to a doctor.
The side effects for AZO Cranberry we found were pain or burning during urination, blood in urine, severe stomach pain and urinating less than usual or not at all. This product also contains egg so it is not appropriate for those who are vegan or allergic.
Guarantee
There are no guarantees offered by the manufacturer for this product.
AZO Urinary Tract Health Support Pack Review – The Bottom Line
We like the idea of a product available with essentially everything you need to accomplish both for immediate and long-term urinary tract health and relief of UTIs. We were also pleased that this product comes available at a reasonable price. We were concerned, however, with the extensive list of artificial ingredients in the AZO Cranberry caplets. It is equivalent to a glass of cranberry juice but we would rather drink a glass of juice than put so many artificial ingredients in our bodies. This would direct us to use a similar product that is more natural. We also found an abundance of negative reviews and testimonials from dissatisfied consumers who experienced negative effects from consuming this product. It is a nice idea to have a pack that contains everything you'd need for immediate long-term relief and protection of UTIs but the combination of artificial ingredients and negative reviews would have us check out other products before resorting to this one.
Reviewed & delivered by our panel of experts at Reviewy.