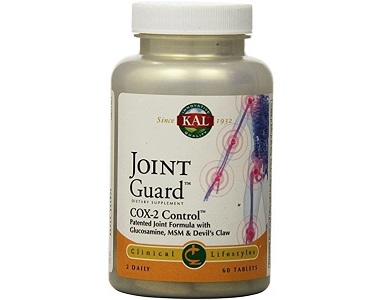 Joints
Updated September, 2021
---
KAL Joint Guard Review
---
Manufacturer's Claim
Read our review below about the supplement Joint Guard by the manufacturer KAL: This product is claimed to ease joint pain, to improve joint flexibility, and to end joint discomfort.
Formula
Two (2) capsules provide the following elements:
Vitamin D (as cholecalciferol) (D3) – 1000 IU
Zinc (as zinc citrate) – 10 mg
Sodium – 35 mg
Boron (as boron amino acid chelate) – 6 mg
Glucosamine HCl (shellfish) – 1000 mg
Chondroitin sulfate sodium (bovine) – 200 mg
MSM (methylsulfonylmethane) – 200 mg
Bovine cartilage (supplying 67.5 mg [45%] mucopolysaccharides) – 150 mg
White willow (salix alba) (bark extract) (15:1) (supplying 15 mg [12.5%] salicin) – 120 mg
Green shell mussel (perna canaliculus) (shellfish) (supplying mucopolysaccharides) – 75 mg
Boswellia (boswellia serrata) (gum extract) (supplying 32.5 mg [65%] boswellic acids by titration including all organic acids) – 50 mg
Horsetail (equisetum arvense) (aerial extract) (supplying 2.5 mg [10%] silica)  – 25 mg
Turmeric (curcuma longa) (root extract) (supplying 9.5 mg [95%] curcumins) – 10 mg
Ginger extract (zingiber officinale) (root extract) (supplying 500 mcg [5%] pungent compounds including gingerol, shogaol & zingerones) – 10 mg
Actisorb proprietary blend (bioperine [black pepper extract], ginger root extract, rosemary leaf extract, turmeric root extract and cayenne extract) -5 mg
Inactive ingredients include cellulose and silica. Active ingredients work together to lubricate the moving parts. This increases flexibility, while reducing pain. These elements such as turmeric, promote healthy cartilage structure. Ginger enhances joint mobility, and bovine cartilage helps reduce joint discomfort.
Instructions
The manufacturers of this dietary supplement suggest that two (2) tablets be taken each day, with a meal. No mention is made of time of the day best for taking such supplements for optimal results.
Cost
One bottle of this product, containing 60-capsules, is available online at $12.77. The original price of $21.29 has been discounted by 40%. No further purchasing options are provided.
Possible Side Effects
No explicit side effects are mentioned by the manufacturer of this product, however, this product should not be taken by pregnant women.
Guarantee
This product, which is sold via the E-commerce site Vitacost, offers a guarantee although not clearly indicated on the company's website: a buyer should email the company. Our research found that this policy includes a 60-day money-back guarantee, on unopened and opened goods traded within the US. International trade is not covered by this guarantee.
KAL Joint Guard Review – The Bottom Line
With joint pain a problem common to many people, a dietary supplement ensuring joint health is gratefully received. This product comes with a 40% discount, making it more economical over the long term. There is a full, risk-free guarantee on this product, albeit the guarantee not being clearly displayed. It should also be mentioned that there are some concerns with this product, including unclear dosage instructions, and too many similar ingredients all to the same purpose. There is only one review on the E-commerce site Vitacost, and one review on Amazon, which raises concerns about the effectiveness of this product. Still, there are many other products on the market currently offering better value: clear instructions or many positive reviews, and might be better.
Reviewed & delivered by our panel of experts at Reviewy.