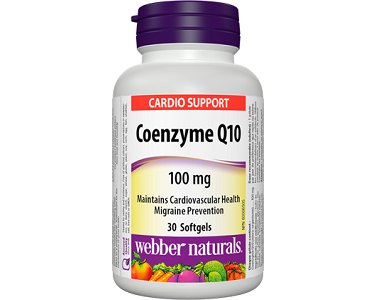 CoQ10
Updated April, 2023
---
Webber Naturals Coenzyme Q10 Review
---
Manufacturer's Claim
This is a review for a dietary supplement called Webber Naturals Coenzyme Q10. This product contains a high potency antioxidants as well as key nutrients for cellular energy production. It helps maintain cardiovascular health and also reduces the frequency of migraines. Ultimately, the manufacturer claims that it can replenish CoQ10 levels that naturally decline with age. The product is available in 30 mg, 60 mg, 100 mg, 150 mg, and 200 mg CoQ10 potency level per softgel or capsule. Keep on reading and see what Webber Naturals Coenzyme Q10 can do for you and if it is worth trying.
Formula
The main active ingredient in this product is Coenzyme Q10. All levels of potency are provided in a capsule, except CoQ10 100 mg, which is provided in a softgel. The product claims to provide cellular health and cardio support. In addition to this, it also provides a high potency of antioxidants that help defend the body against free radicals. Webber Naturals Coenzyme Q10 does not contain BioPerine, which is essential for increased absorption and bioavailability.
Instructions
The manufacturer suggests that users take 1 softgel per day with a meal. The product must be used for at least 3 months before a change will be noticed. These instructions are not very clear. There is no indication as to the time of day it is best to be taken. Another concern we have is the dosage concentration of the product. All products provide a too low dose to be effective. The recommended minimum is 250 mg. The closest potency to this is the CoQ10 200 mg.
Cost
Webber Naturals Coenzyme Q10 can be found in local retail stores in the United States and Canada. Users can also find a list of online retail stores on the manufacturer's website. Each store provides their own price for the product. A CoQ10 200mg of 60 softgels will cost about $35.99 on Amazon. The manufacturer does not offer discount and bulk packages are not made available.
Guarantee
The manufacturer does not provide a money-back guarantee for their clients when they purchase a product. This leaves the risk with the customer. One is better off finding a manufacturer that offers a strong return policy.
We were also unable to find any reviews written by customers about this product. Customer reviews guide one in making a better decision whether to purchase the product or not.
Webber Naturals Coenzyme Q10 Review – The Bottom Line
There are a few things that we like about Webber Naturals Coenzyme Q10. It comes in easy to swallow capsules and softgels.
It is noteworthy that we also found a few things we did not like. First of all, the product does not contain BioPerine for increased bioavailability and absorption. Lack thereof may prevent the product from being effective. Furthermore, the manufacturer provides the user with very little information on when the product should be taken. Another concern is that the concentrations of all the various potency levels are too low to be effective. The required minimum level is 250 mg. The manufacturer does not provide discount. A money-back guarantee cannot be found. This does not support the other evidence found above and may be another indication as to the effectiveness of the product. Finally, there are no customer reviews. These reasons lead us to believe that Webber Naturals Coenzyme Q10 is not an effective product.
Reviewed & delivered by our panel of experts at Reviewy.