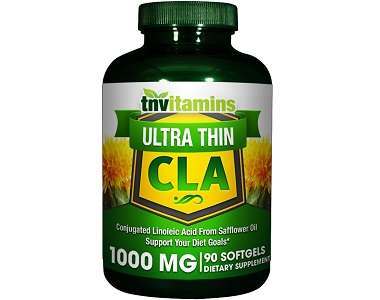 CLA
Updated July, 2022
---
TNVitamins CLA Review
---
Manufacturer's Claim
TN ( Total Nutrition ) Vitamins' CLA 1000 Mg is made with conjugated linoleic acid. CLA is found in meat and dairy products. This acid may help to improve the body's immune functions and reduce fat deposits. It has been known to reduce hunger cravings in obese people and to help with problems with high blood pressure. It is also been shown that adding conjugated linoleic acid to milk might help adults reduce their amount of body fat.
But this does not help people who may be lactose intolerant. It is also not considered to be a wonder drug which will definitely help people lose weight. And vegans will not want to take anything that comes from animals or animal bi-products. That being said, all natural dietary supplements such as this do not have chemicals or other artificial substances in them.
This review of CLA 1000 Mg will let you know if this product is for you.
Formula
The product is basically an extract made from sunflower oil. It also contains some all natural extra ingredients which are standard in softgels capsules.
Safflower Oil  (78-84% Conjugated Linoleic Acid [CLA]) – 1000 mg
Additional ingredients include, Gelatin, Vegetable Glycerin, Purified Water
Instructions
The company recommends that you take one or more softgels a day as a dietary supplement or as advised by your health care professional.
Cost
One bottle of 90 x 1000mg softgels has a suggested retail price of $18.95. But if you purchase online from the company website then it only costs $7.58. They offer free shipping on an order of $50 or more.
Possible Side Effects
While the manufacturer warns that pregnant or lactating women should consult a doctor before taking CLA 1000 Mg, it makes no mention of any other problems. A simple web search found that conjugated linoleic acid may cause complications in people who suffer from diabetes and may even cause diabetes.
Guarantee
TNVitamins states that it is proud of its quality and that their products are manufactured under quality controls "more stringent than required by federal and state agencies". The company promises that satisfaction is fully guaranteed for 90 days from the date of purchase. But it only offers a partial refund covering the unused portion of the bottle and you must first send it back to them with a written explanation as to why.
TNVitamins CLA Review – The Bottom Line
Well, what can we say about TNVitamins' CLA 1000 Mg? The company does offer a money back guarantee which is always a good sign in an all natural supplement. And conjugated linoleic acid has been shown to help with losing weight and other health issues.
But the guarantee is only for the unused portion of the product and if you only purchased one bottle from their website you are looking at just a seven dollar refund at most and there is also no mention of how long it may take before seeing results. There is also no information offered by TNVitamins that suggests that its product is any better than any other CLA products which are on the market today and there may be some which cost less per gram.
Reviewed & delivered by our panel of experts at Reviewy.