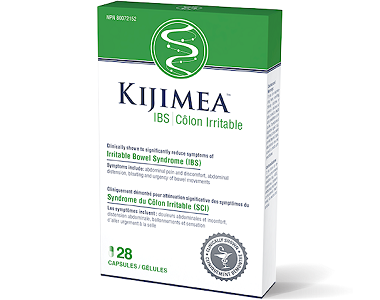 IBS
Updated April, 2023
---
Kijimea IBS Review
---
Manufacturer's Claim
IBS or irritable bowel syndrome is a very common gastric disorder that mainly affects the large intestine. While very few sufferers get severe symptoms, the characteristics of this condition include bloating, gas, cramps and abdominal pain and aches. While this is a life-long problem that you need to manage, many are able to get their IBS under control by proper diets, lifestyle changes, and dietary supplements. In this review, we will take a look at Kijimea IBS, a product that is meant to manage and improve the associated symptoms of IBS and other gastric problems.
Formula
B. bifidum MIMBb75 strain – 15 Billion CFU
Other ingredients as fillers and coatings: cornstarch, hypromellose, magnesium stearate, silicon dioxide and titanium dioxide.
This product only contains one active ingredient, namely 15 billion CFU (colony-forming units) of B. bifidum MIMBb75 strain. This compound is a bacteria and probiotic that has been suggested to improve the health of your gut as it is supposed to restore the bacterial balance in your intestines. While there may be potential benefits linked to the bacteria found in this product, its other ingredients hold no nutritional and health value – and as they are present in unspecified amounts, we could not conclusively determine whether they were detrimental or not.
Instructions
According to the available product information, this supplement should be administered under medical supervision. Adults should take two capsules daily with meals and water. It is suggested that the use of this supplement should last for four weeks total or as needed.
Cost
This product is only available for purchase via Amazon or Walmart. The manufacturer website also states that this is a new product that may not be widely available yet. If you buy Kijimea IBS from Walmart you are looking at a purchasing price $19.99 for 14 capsules or $97.99 for 56 capsules. If you purchase it from Amazon you can buy it for $19.90 for 14 and $49.90 for 56. The discrepancy in price does raise some concerns. The manufacturer does offer a coupon – however, the discount is not stipulated.
Guarantee
Due to the fact that this product is not available for purchase from the manufacturer's website, return policies from Walmart and Amazon would apply. These guarantees will vary in policy and should be read thoroughly before purchase.
Kijimea IBS Review – The Bottom Line
Irritable bowel syndrome is a lifelong condition that can seem like a burden if not managed and maintained properly. In the search for a solution, be wary of products that promise to cure your condition. As we end off this review for Kijimea IBS, we would like to highlight some of the positives and negatives we found. Firstly, while conducting additional research, we did come across some happy customer reviews. Secondly, we appreciated the simplicity of the product's formula. But we did not like that the manufacturer left out the volumes of its inactive ingredients that could be harmful if consumed in improper quantities. We also felt that the large price variants across the two online platforms left some unanswered questions. Lastly, this product did not have any concrete satisfaction guarantee, offered by the manufacturer -which makes it difficult to establish the financial risk involved if the product does not work as suggested.
Reviewed & delivered by our panel of experts at Reviewy.