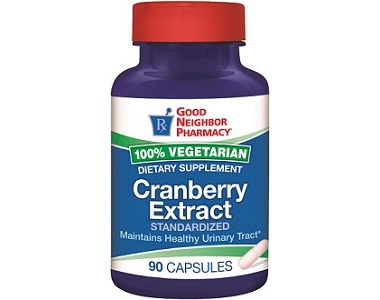 UTI
Updated August, 2022
---
Good Neighbor Pharmacy Cranberry Extract Review
---
Manufacturer's Claim
In our product review today we are looking at a product called Cranberry Extract by Good Neighbor Pharmacy. The manufacturer made the product to help you maintain a healthy urinary tract. The product is vegetarian-friendly.
Formula
The main ingredient in the product is Cranberry Extract at 200mg per capsule. The ingredient is known for helping to maintain a healthy urinary tract. The manufacturer did not list any inactive ingredients.
Instructions
The manufacturer did not stipulate the dosage instructions for this product on the product website. We searched for the product on Amazon but could not find it.
Cost
You can buy the product from the official website for only $6.69 for 90 capsules. It is unclear if shipping is included in this price. This sound slike great value but without dosage instructions it is impossible to know how long this bottle will last you. The manufacturer has not offered any new customer incentives nor bulk buying discounts.
Guarantee
The manufacturer does not offer a money-back guarantee for opened products. If you have used the product and want to return it because you did not see any results, you cannot claim a refund. The manufacturer will omit a guarantee from the product when it knows that it cannot produce the results that consumers need. By purchasing a product without a guarantee, the consumer is exposing his or her money at risk.
Good Neighbor Pharmacy Cranberry Extract Review – The Bottom Line
Positive aspects about this product are the price at only $6.69. This seems like great value for money. We also liked that the product is vegetarian-friendly. We do see many floors to this product however. The manufacturer did not list the daily required dosage or instructions for using this product. You cannot get the best results from a product if you don't know the correct dose. By not knowing the dosage instructions, you the user are potentially exposing yourself to side effects. Also missing are possible side effects and warnings. The manufacturer has not offered new customer incentives nor bulk buying discounts. Critically lacking is a product guarantee, thus indicating a lack of confidence in the product to deliver consistent results. There are very few reviews of this product on the company website suggesting a lack of popularity or effectiveness. There is no assurance from the manufacturer that this product is made with non GMO ingredients in an FDA certified facility. To conclude, we feel that you are taking a chance with this product. The absence of a guarantee and customer testimonials reveal that this product is not capable of producing consistent results. Look for an alternative UTI supplement that stands behind its effectiveness with a reliable guarantee, bulk buying discounts, and a wide spread of customer reviews.
Reviewed & delivered by our panel of experts at Reviewy.