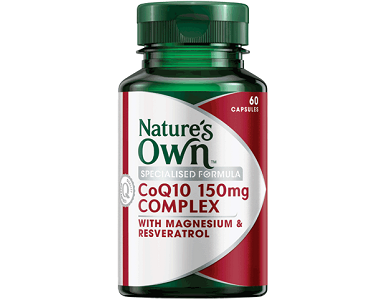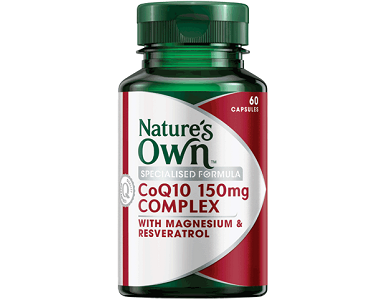 CoQ10
Updated November, 2023
---
Nature's Own CoQ10 Complex Review
---
Manufacturer's Claim
This product review provides information about Nature's Own CoQ10 Complex which is a dietary supplement taken to improve and maintain cardiovascular health and increase energy levels. This particular product contains other antioxidants to support the antioxidant effect of coenzyme Q10, to generally relieve inflammation and reduce the risk of developing certain chronic disorders.
Formula
Coenzyme Q10 and resveratrol are antioxidants. Antioxidants react with and remove damaging chemicals from the cellular environment so that they do not react with the cell's membrane or proteins. If this didn't happen the result would be chronic inflammation which, over time, can damage tissue and lead to various organ related disorders. Examples of these are cancer or cardiovascular disease.
Coenzyme Q10 is also very important for energy production in the different cells of the body. The cells break down glucose into small molecules and through a series of chemical reactions generate a source of energy called ATP. In the last phase of this process, coenzyme Q10 moves electrons along the chain and helps to produce the vast majority of ATP in the process. Taking more coenzyme Q10 from supplements could then enhance the energy producing ability of the cells leading to overall vitality.
Magnesium has a range of functions in the body. It helps to control glucose uptake by cells and also reduces the chance of developing cardiovascular disease through different mechanisms.
Instructions
This supplement should be taken every day with food. One capsule should be taken a day. These dosage instructions provide a total of 150 mg of coenzyme Q10 which is significantly below the ideal amount of 250 mg per day.
Cost
30 capsules are available for online purchase through third-party retailers for the price of around $13. Customers may also purchase 60 capsules for around $20. Various third-party retailers may offer free shipping on orders over a particular total.
Possible Side Effects
People who are taking Warfarin or similar anticoagulants should definitely consult a physician before using this product as there have been some reports of interactions between the supplement and the medication. The active ingredient has not been tested to see if it is safe to use on pregnant women or breastfeeding mothers either, so they should consult a physician before using this product
Guarantee
We couldn't find any guarantee or returns policy from the manufacturer's side, most likely because they use third-party retailers to sell the product. This isn't particularly an excuse though because there are so many factories that provide a guarantee despite not selling the products themselves.
Nature's Own CoQ10 Complex Review – The Bottom Line
Nature's Own CoQ10 Complex is offered at quite a low and affordable price and it does contain ingredients that can reduce the health effects that the manufacturer says the supplement will. One of the problems really is the fact that the manufacturer doesn't offer high enough dosage so this product might not be as effective as others. The fact that the manufacturer doesn't offer a guarantee also reduces our confidence in this product because it says that the manufacturer is not completely certain of their own product.
Reviewed & delivered by our panel of experts at Reviewy.