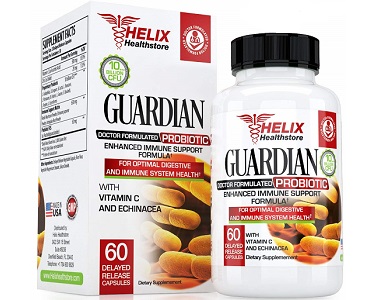 IBS
Updated November, 2023
---
Helix Healthstore Guardian Probiotic Review
---
Manufacturer's Claim
The following review i for a product called Helix Healthstore Guardian Probiotic, the manufacturer claims that this Immune support Probiotic supplement might assist by easing constipation, diarrhea, and allergies and at the same time boost energy levels. This supplement might quickly replenish the good bacteria deep in the gut and assist with vitamin and mineral absorption. By applying time release technology the consumer might be protected all day for effective relief from IBS, gas and bloating symptoms.
Formula
Key Ingredients:
Vitamin C – 500 mg
Zinc – 20 mg
For the formation of collagen, the immune system, wound healing, absorption of iron, and the maintenance of cartilage, bones, and teeth, Vitamin C is used. For acute diarrhea, and slow wound healing, Zinc is used.
Proprietary Blend Probiotic:
Bifidobacterium Longum
B. Lactis
L. Paracasei
L. Planetarium
B. Infantis
L. Gasseri
Saccharomyces Boulardii
L. Reuteri
L. Coryniformis
Lactobacillus Acidophilus, Bifidobacterium, Longum, Gasseri, Saccharomyces Boulardii, Reuteri, Echinacea is used to boost the body's natural immunity.
A proprietary blend is very dangerous to the consumer if they have a medical condition and if they are sensitive to some of the ingredients listed.
Other Ingredients:
Reishi Mushroom Powder
Echinacea purpurea Powder
Astragalus Root Powder
Prebiotic FOS
Reishi Mushroom Powder, Echinacea purpurea Powder used for boosting the immune system. Astragalus Root Powder used to help improve the overall weakness. Prebiotic Fos is used for improved mineral absorption and decreased levels of serum cholesterol.
This supplement might be effective to boost the immune system but clinically proven key ingredients are needed to bring effective IBS relief, these ingredients are, Perilla, Aloe Vera, Vitamin D, Psyllium Husk, Ginger, BioPerine, Piper Longum, and Cumin.
Instructions
For maximum benefit, the recommended dosage is to take four capsules per day, preferably with a meal. For daily maintenance, the recommended dosage is to take two capsules per day, preferably with meals.
Cost
A container of 30 delayed-release capsules at a price of $22.90 available to be purchased from the manufacturer's website as well as third-party retailers.
Possible Side Effects
This supplement should not be taken if pregnant, nursing or on other medication, a healthcare professional should first be consulted.
Guarantee
The manufacturer offers the consumer a 60-day money back guarantee. If the consumer is not happy with the purchase they have to email the manufacturer and give a brief explanation as to why they are returning the product. Items purchased with a discount code is not eligible for a return. All items returned are subject to a 20% restocking fee.
Helix Healthstore Guardian Probiotic Review – The Bottom Line
The manufacturer has formulated a supplement that does not contain any artificial ingredients, is gluten-free, and is presented in an easy to swallow vegetarian capsule.
This supplement should be regarded as an immune boosting supplement and not an IBS support supplement. Clinically proven key ingredients are omitted from the ingredients which need to provide optimal effective IBS relief. The proprietary blend poses a risk to the consumer with a medical condition, or if they are sensitive to some of the listed ingredients. The manufacturers guarantee is not very consumer friendly as only unopened items may be returned.
Reviewed & delivered by our panel of experts at Reviewy.