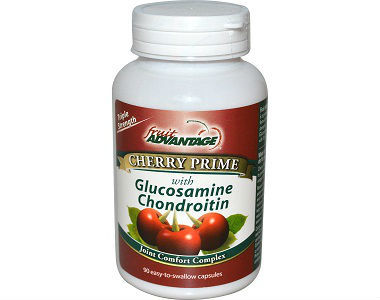 Gout
Updated April, 2023
---
Fruit Advantage Cherry Prime Review
---
This is a review of Fruit Advantage Cherry Prime.  This is a gout treatment product which promises to keep joints healthy, reduce soreness of muscles, help build cartilage and keep joints lubricated. Gout is a type of arthritis that affects millions of people. It is cause by a uric acid accumulation up the blood and which then causes joint inflammation. There are two types of gout: acute and chronic. Acute gout is a painful condition that usually affects only one joint; Chronic gout is defined by repeat periods of pain and inflammation. With chronic gout often multiple joints are affected. This supplement contains glucosamine and chondroitin to restore damaged cartilage and lubricate joints. It also contains anthocyanin and antioxidants from tart cherry. Glucosamine stimulates cartilage production and chondroitin provides raw material for it and also attracts water into joints, keeping them motile. Tart cherries are rich in vitamin A, C and E and promote overall health. Anthocyanin present in tart cherries prevents uric acid crystals from forming in joints, dissolves existing crystals and keeps blood uric acid levels in control. Antioxidants prevent tissue damage caused by free radicals. We decided to conduct some independent research online.  Read on to learn more about this product and whether it is right for your situation.
Ingredients
This product contains:
Glucosamine;
Chondroitin;
Tart Cherry.
Dosage
Three capsules of Cherry Prime are recommended to be taken a day (one with each meal).
Side Effects
Like other glucosamine and chondroitin supplements, Cherry Prime can cause high blood sugar, upset stomach, itchy rashes and headaches. People with a known shellfish allergy should avoid this product, since glucosamine is derived from shellfish. Contact a doctor if you do experience any side effects or allergic reactions to individual ingredients.
Price
A 90-capsule bottle of Cherry Prime costs $28.95. Seven bottles can be bought together at a discounted price of $22.33 per bottle. Shipping within the US is free. Each bottle lasts one month. This price is reasonable for a combined supplement that both prevents and repairs gout damage.
Guarantee
The website offers a 100% satisfaction guarantee and products can be returned for full refunds within 60 days of purchase. It is manufactured in an FDA approved facility.
 Conclusion Of Our Fruit Advantage Cherry Prime Review
This is a product that combines the benefits of two separate supplements. Glucosamine and Chondroitin heal joints and help in regenerating cartilage, while tart cherry prevents accumulation of uric acid in joints. Tart cherry supplements have been found to be very effective in managing gout. Cherry Prime is a good product but it is not recommended for people who have diabetes or shellfish allergy. People who have had gout for a long time and whose joints have been corroded due to it can use this supplement to heal their joints.
Reviewed & delivered by our panel of experts at Reviewy.