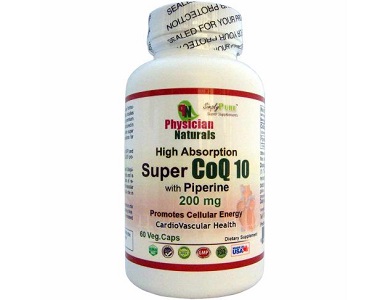 CoQ10
Updated September, 2021
---
Physician Naturals Coenzyme Super CoQ10 Review
---
Manufacturer's Claim
This product review provides details about Physician Naturals Coenzyme Super CoQ10, which is designed to give the body antioxidants to support a healthy heart and immune system and to boost energy levels. We've examined the formula and cost of this supplement to help you decide if it is worth spending your money on.
Formula
Coenzyme Q10 also known as ubiquinone 100 mg
Vitamin E 30 international units
Both coenzyme Q10 and vitamin E are effective antioxidants. Antioxidants are compounds that reduce inflammation by chemically reacting with the substances that cause it. When these substances react with antioxidants they cannot react with components of the cell so they can't cause inflammation. Over a long period of time, this process helps to significantly reduce the risk of developing inflammatory diseases like cancer or cardiovascular disease.
Coenzyme Q10 also helps in energy production. This is because it is a fundamental part of the biochemical pathways that produce energy. It's so important that the body cannot produce energy without it. When levels of coenzyme Q10 start to decline in the body due to age or other factors like taking medications, then an outside source can help to get the levels back to normal, so that energy production is improved.
Instructions
The customer can take one or two soft gel capsules up to three times a day, each time with a meal. This provides anywhere between 300 and 600 mg of coenzyme Q10. These dosages are a little bit above the scientifically established ones. Generally, people are starting on a dose of about 200 mg and move up slowly if they need it.
Cost
50 softgel capsules can be bought for $19.95 online. There are discounts if customers purchase three units together or ten units together. Three units together cost $57 ($19 each) and ten cost $181 ($18.10 each).
Possible Side Effects
Coenzyme Q10 supplements should be used with caution for anyone taking anticoagulant therapy like Warfarin. Pregnant women and breastfeeding mother's should also take caution and consult a physician before using this supplement.
Guarantee
The manufacturer states that they have a guarantee, but it turns out that it is only a returns policy for unopened products. This means that customers are not given a chance to make sure that the product works for them before fully committing so if it does not work, they have lost money.
If a manufacturer does not at least let the customer assess their own results then they are not completely confident that the product will work and would rather the customer bear the risk.
Physician Naturals Coenzyme Super CoQ10 Review – The Bottom Line
Physician Naturals Coenzyme Super CoQ10 contains scientifically proven ingredients and the science supports their claims. The supplement is available for a fair price and the manufacturer does offer discounts when customers buy more units. We do note though, that some manufacturers of the same product offer larger discounts than this one of up to 60% though. What deeply concerns us is that the manufacturer says they have a guarantee but only accept unused products so if customers open the product and are unhappy with their results they cannot return it.
Reviewed & delivered by our panel of experts at Reviewy.