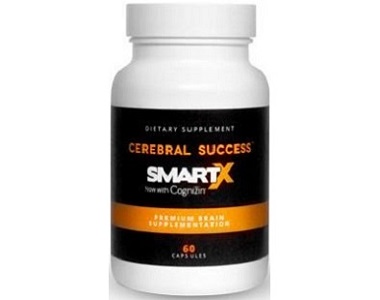 Brain
Updated September, 2023
---
Rightway Nutrition Cerebral Success SmartX Review
---
Manufacturer's Claim
In this review, we will be looking at a product called Cerebral Success SmartX from Rightway Nutrition. According to the people who produced this product this supplement will help you to maintain the optimum functioning of your brain. Continued use of this product will help you to learn new information more effectively, improves your memory and helps you to discover the true potential of your brain. Additionally, the manufacturer claims that individuals who use this supplement are more alert and have significantly higher energy levels. According to the manufacturer, this product contains a variety of carefully chosen ingredients that improve the functioning of your brain.
Formula
Niacin – 20 mg
Vitamin B6 – 10 mg
Folic Acid – 400 mcg
Vitamin B12 – 20 mcg
Proprietary Blend – 1365.1 mg
At first, when we looked at the ingredients included in this formula, we believed it could be effective at improving the health of your brain. However, upon closer investigation, we found that there are quite a few issues with this formula. The manufacturer does not provide any additional information regarding the ingredients. This means that this product could contain a variety of additives, preservatives, fillers, and binders. We also believe that this product may not be suitable for vegetarians, as the manufacturer does not state what the tablets are made from.
Instructions
The manufacturers of this product recommend that, at first, you take one capsule each day. After you have used this product for a few days and you have not noticed any adverse effects you can increase your dosage to two capsules taken daily. Unfortunately, they do not state if you should take this supplement with a meal or on an empty stomach.
Cost
One bottle of this dietary supplement is available on the manufacturer's website for $65.00. The manufacturer has various different options available that offer you more savings depending on the package that you choose. The manufacturer of this product also provides free shipping when you buy a package that contains two or three bottles. Although they offer all of these benefits, we still believe that this product is rather expensive.
Guarantee
The manufacturer of this product provides a full money back guarantee that is valid for 30 days after you first make your purchase. Unfortunately, they do not provide any additional information regarding the conditions of their guarantee.
Rightway Nutrition Cerebral Success SmartX Review – The Bottom Line
After we completed our review of this product, we found that it could be effective for improving your focus and giving you more energy. This product contains a variety of excellent natural ingredients. Additionally, there is a variety of very positive customer reviews available for this product. However, there were a few points, which we uncovered that would make us think twice about recommending this product to anyone. We believe that this product is incredibly expensive and does not offer you good value for your money. Additionally, we were not impressed with the fact that the manufacturer does not provide sufficient information regarding the additional ingredients included in this dietary supplement.
Reviewed & delivered by our panel of experts at Reviewy.