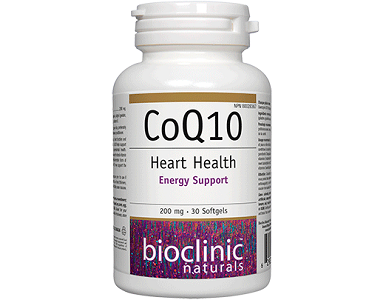 CoQ10
Updated April, 2023
---
Bioclinic Naturals CoQ10 Heart Health Review
---
Manufacturer's Claim
Read our review below about CoQ10 Heart Health. It improves health conditions such as oxidative stress, cellular decomposition and cardiovascular disease.
Formula
The only ingredient found in this formula is 200mg of Coenzyme CoQ10. It's a powerful antioxidant, is required for efficient formation of ATP, supports cardiac tissues and is beneficial for cardiovascular diseases such as hypertension and heart failure and neurological conditions such as migraine, Huntington's disease and Parkinson's disease.
Other inactive ingredients included in this formula are natural vitamin E and rice bran oil. We find it quite impressive that this formula does not contain any artificial preservatives, colors or sweeteners. It also does not contain tree nuts, fish, egg, corn, soy, yeast, gluten, wheat, sugar, dairy or starch.
We found that there is one key ingredient missing in this formula, namely Bioperine. It should really be included in a Coenzyme CoQ10 formula as it helps with the absorption and bioavailability of nutrients. If nutrients are properly absorbed energy could be produced which is needed for cell growth and maintenance.
Instructions
One softgel should be taken per day with a meal.
We found that the dosage of Coenzyme CoQ10 is a bit low at 200mg per serving. 250mg per serving would be ideal.
Cost
30 softgels can be bought for $28.96.
Possible Side Effects
This product may cause nausea. It is also advised to consult a physician prior to use if you pregnant/nursing or taking blood thinners or blood pressure medication.
Guarantee
We found it somewhat concerning that we could not find any information on a money-back guarantee. This might mean that there are some concerns about the effectiveness of the product.
Bioclinic Naturals CoQ10 Heart Health Review – The Bottom Line
We found it very impressive that there are no artificial ingredients such as preservatives and colorants included in this formula. This makes CoQ10 Heart Health a much healthier supplement to consume than many others – with much more benefits for long-term health and well-being. It further also acts as a powerful antioxidant which improves conditions such as cardiovascular disease, oxidative stress and cellular decomposition.
We did find, however, that one key ingredient is missing in this formula, namely Bioperine. This ingredient should not be left out as it has excellent absorption qualities and would, therefore, assist with the absorption of nutrients and further assist with cell growth and maintenance.
The dosage of Coenzyme CoQ10 is also a bit low at 200mg per serving. The ideal serving is 250mg per serving.
We found it a bit concerning that the manufacturer does not offer any kind of money-back guarantee. This might mean that they lack confidence in their products. There are plenty Coenzyme CoQ10 formulas available on the market with excellent money-back guarantee offers.
This product may also cause nausea and it is recommended to see your doctor prior to use if you are using blood thinning or blood pressure medications.
Reviewed & delivered by our panel of experts at Reviewy.