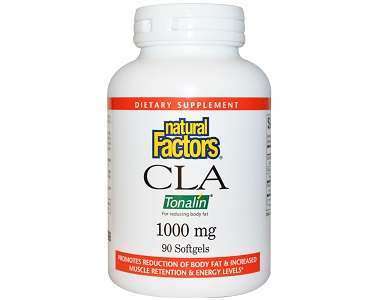 CLA
Updated April, 2023
---
Natural Factors CLA Tonalin Review
---
Manufacturer's Claim
Natural Factors CLA Tonalin is a weight loss supplement designed to help individuals shed those unwanted pounds. It utilizes conjugated linoleic acid (CLA) which is a naturally occurring essential fatty acid. CLA helps the body lose weight by slowing down the production of lipoprotein lipapse which is an enzyme that stores fat. CLA is also noted to help speed up the body's metabolism. Another benefit of taking CLA supplements is to boost bodybuilding and promote lean body mass.
CLA can help the body develop leaner muscle mass in conjunction with proper exercise. So, is Natural Factors CLA Tonalin an effective weight loss supplement? Read our full review to learn more about this dietary supplement.
Formula
The thing about CLA based weight loss supplements is that they only use CLA as the primary ingredient. Natural Factors CLA Tonalin follows this trend as you can see above. It uses concentrated CLA and incorporates the Tonalin blend. The Tonalin blend is a pretty common formula with CLA supplements and Natural Factors CLA Tonalin has everything you would expect from this type of supplement. It appears that Natural Factors took the proven road with this product.
Instructions
The recommended dosage for adults is two capsules, three times per day, preferably before a meal. We found that various body types will react differently to this dosage so we highly suggest you consult with a health professional first. Taking too low a dosage will be ineffective while taking too much might result in a couple of side effects.
Cost
Natural Factors CLA Tonalin comes in three sizes: the 60 count capsule bottle, the 90 count capsule bottle and the 180 count capsule bottle. The 60 capsule bottle is currently priced at $16.00, the 90 count is at $20.97 and the 180 count can be purchased for $39.17. We checked this price tag at Amazon as the official website of Natural Factors does not indicate the price tag of their product. This supplement is also available in chain retail stores. You can check their official website for nearby store locations that sell this product.
There is a special offer for a Bonus Pack that contains two 60 count capsule bottles for only $23.98. However, we are not sure whether this is a time exclusive offer that will expire at any given point.
Possible Side Effects
The official website states that Natural Factors CLA Tonalin causes no side effects. But it would be better if a third party claim backs this claim. CLA has been known to cause several side effects when taken incorrectly, mostly due to taking too much. These side effects are mild and includes diarrhea, flatulence, nausea and stomachaches. Some studies also show that CLA can increase the levels of liver fat. We highly recommend you consult with a doctor before taking this type of supplement.
Guarantee
Natural Factors CLA Tonalin does not come with any sort of guarantee. This means that customers have a safety net concerning their purchase should they not receive the results that they are hoping to achieve. It could also indicate that the manufacturer is unable to stand by the results of their as having little confidence in their product.
Natural Factors CLA Tonalin Review – The Bottom Line
Natural Factors CLA Tonalin offers the standard ingredients in CLA weight loss supplements. It pretty much takes the tried and proven road which means little to no risk. However, it also means that Natural Factors CLA Tonalin has nothing to separate it from the crowd. The reasonable price can be seen as an "up" but other than that we really can't say much about this product. The lack of customer guarantee is also a bit disconcerting.
Reviewed & delivered by our panel of experts at Reviewy.