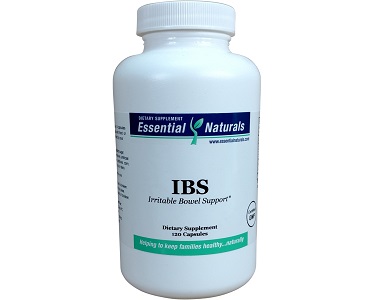 IBS
Updated September, 2023
---
Essential Naturals IBS Review
---
Manufacturer's Claim
The manufacturer of this product states that it provides support for healthy intestines and promotes normal bowel function. They argue that the supplement is manufactured using this highest quality raw materials and is tested to ensure efficacy. In this review of Essential Naturals IBS, we will analyze the product's ability to deliver on these claims and if it is the ideal supplement for Irritable Bowel Syndrome (IBS).
Formula
L-Glutamine – 2000mg
N-Acetyl D-Glucosamine – 400mg
Licorice – 400mg
Calendula Flower – 100mg
Marshmallow Root Powder – 100mg
Slippery Elm Powder – 100mg
Ginger Root Powder – 100mg
This formula contains several beneficial ingredients. A number of these ingredients are found in competing products because of their ability to provide relief from symptoms associated with IBS. L-Glutamine is a naturally occurring amino acid. The supplementation of this substance works to repair and rebuild the intestinal structure and, thus, combats symptoms caused by poor digestive health. N-Acetyl D-Glucosamine is another amino acid that can alleviate inflammation caused by bacteria in the gut. The addition of Licorice, Slippery Elm Powder, and Ginger Root Powder is positive to note. These ingredients support the integrity of this formula by reducing inflammation, remedying pain, and relieving nausea. We were pleased to note that this product has been manufactured under the guidance of cGMP procedures. This is an indication that the product is of a high standard. That said, there are several competing products that are supported by this certification. Furthermore, these products contain more ingredients for added benefit. Ingredients such as Aloe Vera and Turmeric would improve this supplement's ability to deliver optimal results.
Instructions
The manufacturer's website does not provide information pertaining to the directions of use for best results. Further research failed to provide this information either. This is very concerning as potential customers will only be sure of optimal use after purchasing the product. The manufacturer does, however, state that a serving consists of 4 capsules. Each serving supplies 2000mg of the key ingredient L-Glutamine. This is significantly lower than the market standard of up to 5000mg. Potential customers may need to increase their dosage for best results.
Cost
The product costs $34 on the manufacturer's website. Each bottle contains 120 capsules and will last one month if used as recommended. This is a relatively expensive price to pay for a one month supply. What is more concerning is that there are no additional discounts or bulk-buy deals to encourage long-term use.
Possible Side Effects
Potential customers should be aware that N-Acetyl D-Glucosamine is made from shellfish. This allergen can lead to unwanted side effects, however, the manufacturer does not clearly state this. We recommend avoiding this supplement if you have a shellfish allergy.
Guarantee
The manufacturer offers a 30-day return policy. This, however, does not apply to opened or partially used products. This is very concerning as it suggests that they are not confident in the supplement's effectiveness. Furthermore, customers who wish to return a faulty unopened product are subject to a 20% processing fee. This, combined with the fact that we were unable to find sufficient customer reviews, does not bode well for the efficacy of this product.
Essential Naturals IBS Review – The Bottom Line
Essential Naturals IBS contains a formula of beneficial ingredients that are supported by a cGMP certification. The product supplies a decent concentration of these ingredients, however, an additional dosage is required for improved results. This will shorten the lifespan of each bottle and, considering the expensive price, long-term use may become too costly. We were concerned to note that the manufacturer guarantee does not apply to opened products. This showcases a lack of confidence in product efficacy. These are just a few reasons why we cannot recommend this IBS supplement.
Reviewed & delivered by our panel of experts at Reviewy.