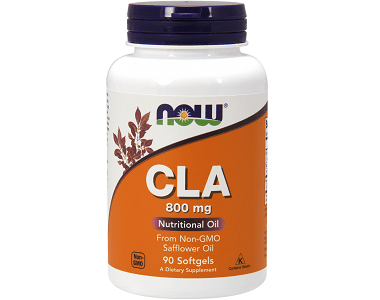 CLA
Updated November, 2023
---
NOW CLA Review
---
Manufacturer's Claim
Conjugated Linoleic Acid (CLA) is a type of fatty acid that is needed in our body to assist in many cellular metabolic processes. Unfortunately, our bodies do not produce this class of fatty acids, therefore we are forced to obtain it from food such as beef and other dairy products. Still, in some instances, diet does not supply our bodies with the desired level of CLA, hence we need the assistance of supplements to achieve the right level. NOW CLA 800 mg is among the top supplements available in the market, formulated from Non-GMO safflower oil, it claims to not only offer essential benefits to our body but also can metabolize body fat leading to weight loss. Our NOW CLA 800 mg review provides more details.
Formula
NOW CLA contains 3000mg of safflower seed oil, providing you with 2400mg of Conjugated Linoleic Acid (CLA). CLA converts stored fat in the body into energy hence reducing fat content in the body which leads to weight loss.
Other ingredients are:
Bovine gelatin
Water
Glycerin
Organic caramel color
Instructions
The recommended dosage is to take three softgels daily with a meal. However, the manufacturer does not specify how you should spread the three softgels out within the day or if you should take them all at the same time. NOW CLA 800mg is only suitable for adults. Those who are pregnant or nursing, taking medication, or have a medical condition should consult a doctor before using this supplement.
Cost
You can't buy NOW CLA 800 mg directly from the manufacturer's website and the manufacturer only provides a way for you to find the product in physical stores. You can also buy this product from various online stores. Based on our research, we found you can buy a 90-softgel bottle for $19.99 from Pure Formulas. This is currently on sale for $13.62. You can also buy a bottle containing 180 softgels for $35.99, currently on sale for $20.76. Both of these packages come with free shipping.
Possible Side Effects
This product is not known to cause any side effects. However, CLA  It is likely to cause side effects including stomach upset, nausea, diarrhea and fatigue. Moreover, CLA can slow down blood clotting and so it can cause excess bleeding during or after surgery.
Guarantee
We could not find any mention of a guarantee on the manufacturer's website. However, as you will be buying this product from third party websites, inquire about their return policy before you make a purchase. Unopened containers of NOW CLA 800 mg can be returned within 30 days for a full refund minus shipping fees if you buy through Pure Formulas.
NOW CLA Review – The Bottom Line
NOW CLA 800 mg is made by a reputable company using pure and non-GMO safflower oil which make it a quality supplement for weight management. Additionally, the prices of this product are affordable and the product has attractive positive reviews as well. However, as the product is not sold directly from the manufacturer's website, you will have to do your own research to find the best deal and the supplier with the best return policy. Also, the dosage instructions are not explicit which can be confusing for users.
Reviewed & delivered by our panel of experts at Reviewy.