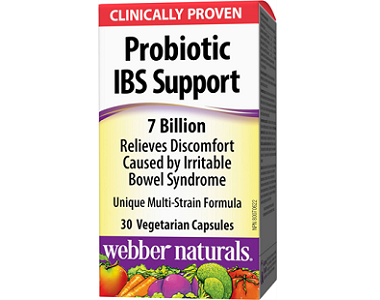 IBS
Updated August, 2020
---
Webber Naturals Probiotic IBS Support Review
---
Manufacturer's Claim
This product is a daily supplement which caters to those who are suffering from digestive disorders such as IBS. The product claims to provide relief from symptoms associated with IBS and promote overall digestive health with the use of beneficial bacteria strains.
In this review of Webber Naturals Probiotic IBS Support, we look at the facts to see if this is an effective solution for you.
Formula
Lactobacillus helveticus  – 0.2 billion CFU
Lactobacillus rhamnosus – 3.8 billion CFU
Bacillus subtilis – 0.3 billion CFU
Enterococcus faecium – 2.7 billion CFU
Other Ingredients
Potato starch
Lactose
Vegetarian capsule
Whey powder
Vegetable grade magnesium stearate
These ingredients are strains of bacteria which are beneficial. Lactobacillus helveticus is said to improve moods, cognitive skills, blood pressure and immunity. Lactobacillus rhamnosus is known to improve gastrointestinal and immune health. Bacillus subtilis is said to have antioxidant properties which improve digestive health. Enterococcus faecium is said to create a protective barrier in the gut which restores the body's natural flora. While these ingredients seem beneficial to everyday gut health, it's concerning to see that this formula does not contain any digestive enzymes or ginger and peppermint which help to relieve abdominal pain and soothe the gut. The additional ingredients are also a cause for concern as some studies suggest that magnesium stearate actually promotes the growth of harmful gastrointestinal bacteria.
Instructions
Webber Naturals suggests taking one capsule of Probiotic IBS Support daily. This information was not made clear on the manufacturer's website and had to be sourced from third-party resellers. We feel that this information should be disclosed as clearly as possible as it is a major factor in any consumers buying decision.
Cost
Each bottle contains 30 capsules which should last about a month. The product retails for $18.00 to $28.00 depending on which online supplier you purchase from. Unfortunately, there are no discounts or bulk purchase options which could render this product as more affordable for a months supply.
Guarantee
We were unable to find any mention of a satisfaction guarantee. Brands who offer weak refund policies do not offer any confidence in the effectiveness of the formula and consumers run the risk of losing hard earned money if they find the product has not worked for them.
Webber Naturals Probiotic IBS Support Review – The Bottom Line
This product may be somewhat beneficial in providing gastrointestinal health based on the fact that this product contains beneficial bacteria. The manufacturer's website is also user-friendly. The downsides of this product are that it does not contain any supporting ingredients such as digestive enzymes, ginger or peppermint which could aid in digestion and relieve abdominal pain. We were also concerned about the fact that finding basic information such as the dosage was not made clear on the website. Based on the fact that the manufacturer does not offer any discounts or any guarantee we feel that this is a risky purchase which may cost you more money in the long run without any measurable results.
Reviewed & delivered by our panel of experts at Reviewy.