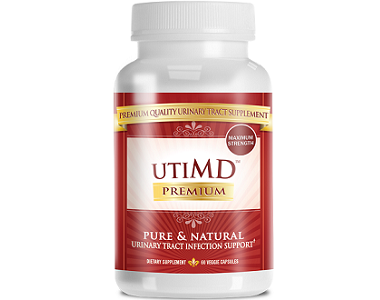 UTI
Updated November, 2023
---
UTI MD Premium Review
---
Manufacturer's Claim
The following review is for a product called UTI MD Premium, formulated only by clinically proven natural key ingredients which are beneficial to soothe the symptoms of UTI (Urinary tract infections). This formula promises to ease and soothe symptoms such as painful and uncomfortable infections, the feeling to urinate frequently, pain and nausea.
Formula
Cranberries – 500 mg
Lingonberry – 500 mg
D-Mannose – 500 mg
Berberine – 20 mg
Uva Ursi – 20 mg
Cranberries contain vitamin C, dietary fiber, manganese, vitamin E, vitamin K, copper and pantothenic acid. They prevent UTIs by inhibiting the adhesion of E. coli bacteria to the walls of the bladder. Lingonberries are a natural source of A-type proanthocyanidins (PACs). As well as antioxidant and antimicrobial benefits and are key to fighting the main UTI.
D-Mannose adheres to the E. coli lectins, which creates a coating so that they are no longer able to adhere to the bladder walls ensuring that the E. coli is flushed out with the urine. Berberine contains natural antibacterial properties and is effective at inhibiting the growth of many pathogens,and prevents future UTIs due to its antibacterial effects. Uva Ursi, also known as Bearberry, is a diuretic, astringent and antiseptic.
Instructions
The recommended dose is to take two capsules daily with meals, one capsule at breakfast time and one capsule at dinner time.
Cost
The cost of one container is $48 which may be purchased online through the manufacturer's website. The manufacturer offers great savings on items bought in bulk as well as big discounts.
Guarantee
The manufacturer offers the consumer a 90-day money back guarantee, if the consumer is dissatisfied with the product it may be returned opened or unopened for a full refund (less shipping charges), no questions asked.
UTI MD Premium Review – The Bottom Line
When it comes to a natural, clinically proven, superior product UTI MD Premium is the one. This product offers all natural ingredients that will soothe the issues of UTI and will aid in the prevention of future occurrences. Other outstanding features are the confident guarantee, the good customer reviews and the fact that the supplement contains the same dosage and purity found in clinical studies.
Reviewed & delivered by our panel of experts at Reviewy.