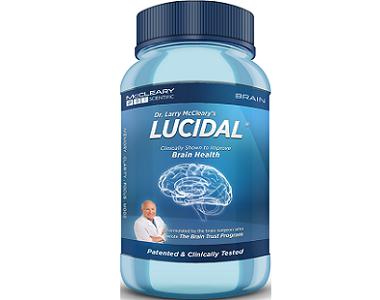 Brain
Updated October, 2021
---
McCleary Scientific Lucidal Review
---
Manufacturer's Claim
The following review is for a product called Lucidal, which is manufactured by McCleary Scientific. This product claims to be a nutritional supplement for the improvement of brain functions, concentration, and memory. It also claims to uplift one's mood by assisting with mild anxiety and depression. Lucidal is formulated to regulate the functions in the brain which are needed to generate inflammation, free radicals, and energy. This product is made up of a combination of vitamins, minerals, and plant extracts. To learn more about McCleary Scientific's product Lucidal, read our review below.
Formula
Vitamin A
Vitamin C
Vitamin D3
Vitamin E
Vitamin B6, B12, thiamin, riboflavin, niacin, folate, biotin, pantothenic acid
Magnesium
Zinc
Selenium
Chromium
Potassium
Beta carotene
Alpha carotene
Lutein
Zeaxanthin
Cryptoxanthin
Creatine monohydrate
DMAE bitartrate
Chondroitin sulfate
Glucosamine HCl
L-glutamine
L-pyroglutamic acid
Inositol
Alpha-ketoglutaric acid
Soy bean oil powder
Trimethylglycine
Ginkgo biloba
Green tea extract
Soy isoflavones
Acetyl L-carnitine
Alpha lipoic acid
Acetyl L-tyrosine
PABA
Bilberry
Grape seed extract
Maritime pine bark extract
CoQ10
Lycopene
Resveratrol
Huperzine A
Vanadium
Lucidal contains more than 50 ingredients formulated from vitamins, minerals and plant extracts. It seems to be more of a multivitamin than a specific nutritional supplement for brain functions. This could be a case of overloading a product with a list of ingredients and not focusing on the quality of the product. Lucidal does, however, contain no added stimulants or caffeine.
Instructions
The manufacturers indicate a daily dosage of 3 capsules taken with a meal. It can be taken all at once or spread out throughout the day. It is also suggested that the product can be taken an hour before a mentally challenging task. Persons must not exceed 3 capsules of Lucidal a day.
Cost
A single bottle of 90 capsules of Lucidal will cost you $74.99. There are no bulk purchases available unless you purchase a combination of Lucidal with other McCleary Scientific products. It is only available in the United States. At Amazon, you can purchase a single bottle for $69.99, including free shipping.
Guarantee
The manufacturer offers a return of unopened items within 30 days of delivery to ensure a full refund. It is also indicated that the original packaging wherein the product came must also be returned. The only problem with this return policy is that if you have opened the product and you are not satisfied, then you cannot return it.
McCleary Scientific Lucidal Review – The Bottom Line
This patented nutritional supplement is filled with many vitamins, minerals, and plant extracts. Lucidal helps ensure that the brain will function in such a way that concentration, focus, and memory are working optimally. Most customer reviews seemed to be of a positive nature. We have however come across a few shortcomings with this product. The list of ingredients is quite long, leading one to the concern of the effectiveness of Lucidal, for the specific function of the product – enhancement of the brain. The manufacturer's guarantee on returns is not very helpful,as dissatisfied customers can not return the product once opened. We believe that there are better brain support supplements available on the market and thus do not recommend this product.
Reviewed & delivered by our panel of experts at Reviewy.