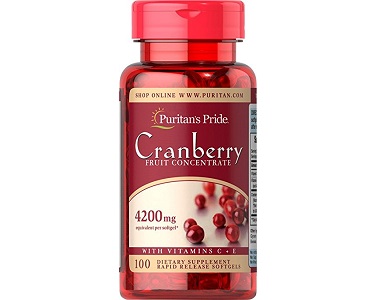 UTI
Updated June, 2023
---
Puritan's Pride Cranberry Fruit Concentrate with C & E Review
---
Manufacturer's Claim
It is approximated that urinary tract infections or UTIs affect 1 in 2 women and 20% of women will experience recurring urinary tract infections, therefore, maintaining urinary tract health is of utmost importance. This review is going to examine Puritan's Pride Cranberry Fruit Concentrate with C & E. This product claims to have all the benefits of cranberry but without all the unnecessary sugar and calories that come with drinking cranberry juice or eating it in its raw form. They claim to contain the equivalent of 8,400 mg of fresh cranberries. This supplement also has the additional benefit of containing a dosage of Vitamin E and C that are associated with containing properties that help the body rid itself from toxins that are absorbed through the environment.
Formula
Vitamin C (as Ascorbic Acid) – 40 mg
Vitamin E (as dl-Alpha Tocopheryl Acetate) – 6 IU
Cranberry Concentrate (Vaccinium Macrocarpon)(fruit) – 8,400 mg
Inactive Ingredients: Soybean Oil, Gelatin, Vegetable Glycerin
Vitamin E has a variety of health benefits like balancing cholesterol, repairing damaged skin. thickening hair, balancing hormones and mainly it can act as an antioxidant and protect from toxins like air pollution. Vitamin C also provides a variety of benefits. Mainly, it acts as an antioxidant that can protect against damage caused by harmful free radicals and toxic chemicals and pollutants. Finally, cranberry is believed to act as a way to protect against urinary tract infections by making the urine acidic and unlikely to promote the growth of the types of bacteria that catalyze infections. It is also believed that certain chemicals in cranberry can keep the bad bacteria from sticking to the cells that line the urinary tract where the harmful bacteria can increase and also stimulate a urinary tract infection.
Instructions
Puritan's Pride recommends taking two capsules 3 times daily preferably after a meal.
They recommend consulting with your doctor before consuming this supplement if you are pregnant, nursing or under medical care.
Cost
Cranberry Fruit Concentrate with C & E is available on Puritan's Pride's website in two package deals of buy 1 get 2 free for $11.39 and buy 2 get 4 free for $22.78. Each bottle contains 250 capsules.
Possible Side Effects
Puritan's Pride does not cite any possible side effects on their website. We found common mild side effects associated with taking a cranberry supplement are inflammation, gas and bloating. Side effects associated with taking high daily dosages of Vitamin E include heart failure in people with diabetes and worsening of bleeding disorders.
Guarantee
Puritan's Pride offers a one-year money back guarantee.
Puritan's Pride Cranberry Fruit Concentrate with C & E Review – The Bottom Line
Puritan's Pride Cranberry Fruit Concentrate with C and E appears to be a viable supplement. It has the added benefits of Vitamin C and E that add an extra boost of protection from harmful toxins. Aside from the straightforward information about what is contained in the product, there is not much more information that Puritan's Pride discloses about this supplement. With so many types of cranberry supplements that have a variety of benefits available on the market, someone looking to make an informed decision about what type of supplement they want to take wouldn't be able to do so just based on the information Puritan's Pride has on their page. Puritan's Pride recommends taking 6 capsules daily and when compared to other similar products, this dosage is exorbitantly high and concerning.
Reviewed & delivered by our panel of experts at Reviewy.