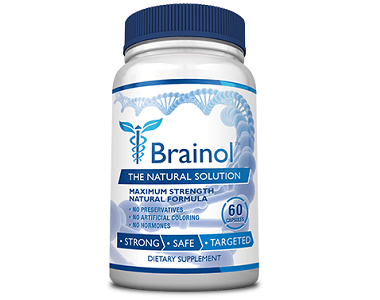 Brain
Updated November, 2023
---
Consumer Health Brainol Review
---
This is an in-depth review for Brainol. This product has to be one of the best on the market today, as well as in the top five products we have reviewed. Brainol is a product made out of 100% natural ingredients that claims to boost your brain, thus increasing productivity and efficiency.
But we will let you be the judge here, so read on to learn more!
Ingredients
Huperzine A, a compound extracted from plants that has been proven to enhance cognitive functions, have neuroprotective effects and improve memory.
L-Theanine, an amino acid found in plants and fungal species, reduces physical and mental stress
Vitamin B Blend, consisting of B1, B2, B3, B6 and B12.
Choline Bitartrate is a nutrient which increases the synthesis of acetylcholine, improving brain functions.
DMAE increases the level of cholinergic activity.
Alpha Lipoic Acid is a strong neutralizer for the damaging effects of stress.
Phosphatidylserine reduces anxiety and stress, restores memory loss and can reduce the risk of dementia.
Acetyl-L-Carnitine is used in generating metabolic energy, reduces fatigue and acts as a powerful antioxidant.
Bacopa Monnieri is a plant which contains diverse psychoactive compounds, increasing brain function and memory.
Guarana is a stimulant, which relieves fatigue and boosts energy, it aids concentration and helps elevate the mood.
Glutamine is an amino acid providing nitrogen and carbon to the cells in the body.
Ginkgo Biloba is used in many different memory disorders, such as Alzheimer, alleviating headaches, memory loss, vertigo, ringing in the ears and hearing disorders.
St. John's Wort is 

a medicinal herb with anti-inflammatory properties that helps ease depression, premenstrual syndrome and menopause.
Dosage
The recommended dose in adults is two capsules daily, one in the morning and one in the evening, as a dietary supplement.
Possible Side Effects
There are no known side effects for this product, however, pregnant and nursing women, as well as individuals suffering from allergies or known illnesses, or those under the age of 18 should consult a doctor or pharmacist before taking this supplement.
Price
This product comes in six different packages that you can choose from. Starting from the Sampler Package, containing one bottle priced at $49.95, the Beginner Package, containing two bottles (one at full price and one at half) containing two bottles priced at $34.95 each for a total of $69.90, the Moderate Package containing 3 bottles (2 at regular price and one for free) priced at $31.95 each for a total of $95.85, the Advanced Package which contains 4 bottles (2 at regular price and 2 for free) priced at $27.95 each for a total of $111.80, the Progressive Package which comes with 5 bottles (3 at regular price and 2 for free) with a price tag of $24.95 each for a total of $124.75 and last but not least, the Top Selling Package which includes six bottles (3 at regular price and 3 for free) priced at $23.30 each for a total of $139.80
Guarantee
The product comes with a risk-free, 60-days money back guarantee, which means that if within 60 days you are not satisfied with the product, you can ask for a full refund on both opened and unopened bottles, no questions asked. The refund policy does not include shipping.
Brainol has a plethora of positive consumer reviews, from both men and women, with different lifestyles.
Conclusion Of Our Consumer Health Brainol Review
So, all in all, Brainol is one of the best brain enhancers on the market, with its high dosage, natural ingredients and quick effect. To top it all off, the manufacturer offers a 60-day money back guarantee, with no questions asked. Add to all that the overwhelming amount of positive customer reviews, and you have a product that is guaranteed to offer you what you are looking for.
Reviewed & delivered by our panel of experts at Reviewy.