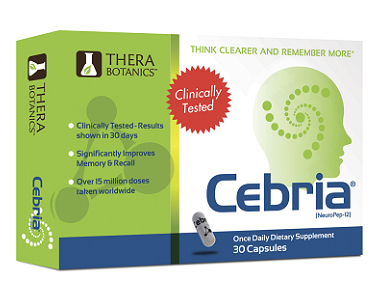 Brain
Updated September, 2023
---
Thera Botanics Cebria Review
---
Manufacturer's Claim
Many of us have difficulty focusing or concentrating. whether it be at school or at work our brains are constantly working overtime and with all the information stored, our memory is often affected. Cebria by Thera Botanics has claimed to put an end to this problem. Thera Botanics claims that in just 30 days of using Cebria, it is proven to combat memory loss, improve short-term memory, concentration and focus as well as boost your ability to retain and recall information. In this review of Cebria, we take a deeper look into the formula and clinical data to see if this product is effective and stays true to its word.
Formula
Vitamin B6 – 20 mg
Folic Acid – 800 mcg
Vitamin B12 – 600 mcg
Neuro Pep Ultra Proprietary Blend – 459.4 mg
(Lactose, L-Theanine, Green Tea Extract, Glutamic acid, Lysine, Leucine, Arginine, Aspartic acid, Serine, Phenylalanine, Valine, Threonine, Tyrosine, Isoleucine, Histidine, Methionine, Tryptophan)
Other Ingredients
Caffeine – Equivalent to one cup of coffee
Gelatin
Nuflow Ricehill
Magnesium Stearate
Silicone Dioxide
Titanium Dioxide
FD&C Blue #1
As the body ages, the body produces fewer neuropeptides which decrease the neurons ability to communicate. Thera Botanics has prided themselves on the Neuro Pep Ultra Proprietary Blend formula and claims that by providing the body with neuropeptides, it increases neural connections to improve short-term memory. While this may be true, this formula contains caffeine which may not be beneficial to your body in the long term.
Instructions
The recommended dosage is one capsule daily every morning. Cebria contains Lactose and is not recommended for anyone who is Lactose intolerant.
Cost
Cebria can be purchased online for $67.95 from third-party retailers. A single bottle can be purchased directly on the manufacturer's website for $59.95 however, we couldn't find a way to order this product without automatically signing you up for an auto-ship program that offers a free trial and a monthly fee of $39.95 for 2 bottles. Consumers should always be aware when opting for these auto-ship programs, they are risky and hard to cancel and usually come with hidden costs.
Guarantee
If you are unsatisfied with the product, you have 30 days to return the product for a money back guarantee. There is no information on what condition the product should be returned in as the link is broken on the website.
Thera Botanics Cebria Review – The Bottom Line
While Cebria may offer a short period money back guarantee and contain neuropeptides that may increase short-term memory, there is not enough evidence to support this claim. When researching this product we found that there are some major concerns. The formula claims to be proven and takes effect within 30 days, however, the links to the research journals are broken and the manufacturer has not provided enough evidence on how exactly this product works to boost your brain. The product is very expensive for a formula that only contains amino acids and is void of any additional plant and herb extracts that have been proven to benefit and promote concentration and blood circulation to the brain. In addition to this, the automatic auto-ship option is very concerning and ties consumers into a long-term agreement that enables the manufacturer to debit accounts as they like for hidden costs that they hold you liable for. When looking at the reviews on third-party sites there was an abundance of complaints about the product and being tied into the auto-ship program without their consent. Many who tried to return the product were told that the 30 days was over and that they do not qualify for a refund and were unable to cancel their subscription even though the product was sent back well within the 30 days. To top this all clients have mentioned that they needed to sign a document before receiving the free trial that binds you to negotiation instead of legal action. This implies that the company is no stranger to lawsuits. Based on this and the reputation of the company we advise that consumers look for alternative brands that stay true to their word and offer excellent customer service without having to bind yourself into any legal document or auto-ship program.
Reviewed & delivered by our panel of experts at Reviewy.