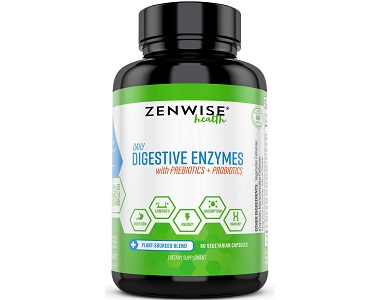 IBS
Updated October, 2021
---
Zenwise Health Daily Digestive Enzymes Review
---
Manufacturer's Claims
Our review today focuses on a product that contains enzymes, prebiotics and probiotics to aid smooth digestive functioning. It is called Daily Digestive Enzymes with Prebiotics + Probiotics and is made by Zenwise Health. Zenwise says that is is a specially designed formula so food is broken down properly and the body absorbs vital nutrients. The effect should therefore be that your digestive system as a whole is more robust.
The enzymes in Daily Digestive should help to break down fats, proteins, carbohydrates and cellulose with the support of the pro- and prebiotics, which create an adequate environment in the gut for this to happen.
Formula
Advanced Enzyme System (Amylase, Glucoamylase, Lipase, Protease, Invertase, Maltase, Cellulose, Bromelain, Lactase, Papain) – 350mg
Green Papaya – 30mg
Apple Pectin – 30mg
Ginger – 20mg
Turmeric – 15mg
Fennel (Seed) – 15mg
Peppermint – 10mg
Sea Vegetable Complex (Bladderwrack, Nori, Wakame) – 15mg
Pre/Probiotic Complex (Inulin Prebiotic, Multi-Strain Probiotic)
Vegetable Cellulose (Capsule) – 233 mg
Microcrystaline Cellulose
Magnesium Stearate
Silicone Dioxide
The enzymes help to break down the various food groups. Amylase breaks down carbohydrates, glucoamylase breaks down glucose, lipase breaks down dietary fats. Protease breaks down carbohydrates, along with bromelain and papain, which are plant-based enzymes derived from pineapple and papaya respectively. Lactase breaks down dairy, which is why if you are dairy-intolerant you are also called lactose-intolerant.
Apple pectin helps to inject some fiber into the system to promote regularity. It is an appropriate amount which should not be too little or too much – the consequences of either can be upsetting to the stomach either way. Ginger and turmeric are antioxidants and also help to raise the immunity barrier. Peppermint is a soothing agent which should help to soothe inflammation. The inclusion of a multi-strain probiotic is sensible, given that each person will need a different kind of probiotic supplementation, depending on an individual's gut flora makeup.
The overall effect should be better and timely digestion which decreases the incidence of bloating, gas, pain and constipation and/or diarrhea.
Instructions
If you're an adult, take one capsule immediately before a meal. More than 3 capsules a day is not advised. Children under 18, breastfeeding and pregnant women should not embark on a course of capsules without obtaining medical clearance.
Cost
180 Capsules (approximately 2 or 3 months' supply) will cost you $21.97 on the manufacturer's website and slightly less than this on Amazon. You can also buy smaller volume bottles on Amazon with the 180-count bottle representing the greatest discount.
Possible Side Effects
Although the enzymes are gluten-free, they are not considered safe for those suffering from celiac disease. Just as it is a problem to have too few probiotics, it is also an issue to have an overproliferation of these in the gu – beware that you are not planting too many of these in your system.
Guarantee
Zenwise claims to back its products with a no-questions, money-back guarantee. Contact the manufacturer for more specifics as to whether opened products are included, and how long after purchase goods can be returned. The exact ambit and nature of the guarantee are vague at best. Can you return half-used and empty bottles as well? It is important to ascertain this as many manufacturers will claim to have a 'no questions' guarantee, which is in fact ineffectual because you are barred from returning any opened products.
Zenwise Health Daily Digestive Enzymes Review – The Bottom Line
Usually, there is no single catchment cure for every IBS symptom. It depends on whether yours is loose stool, constipation, cramp or gas-dominant. It also depends on dietary factors, and whether the root cause of your issue is an enzyme deficiency or a probiotic imbalance. Zinc is a well-known IBS aid which is not included in this formula.
That said, the ingredient list is quite comprehensive in the effects it tries to target and uses a three-prong approach: enzyme, probiotic and prebiotic supplementation. In their own way, each of these work. However, the broad spectrum nature of the probiotics means it may not be right for you, as you may be missing specific strands.
The biggest drawback of this product is the lack of a clearly defined guarantee. In our experience, if there are no guarantee loopholes for the manufacturer, the exact terms and conditions are clearly stated. As a result, this may not be a risk-free purchase. We suggest a product inclusive of zinc for IBS specifically and that comes with a clear guarantee because IBS symptoms can be notoriously hard to treat, and you may need to experiment with a few options until you find the right supplement.
Reviewed & delivered by our panel of experts at Reviewy.