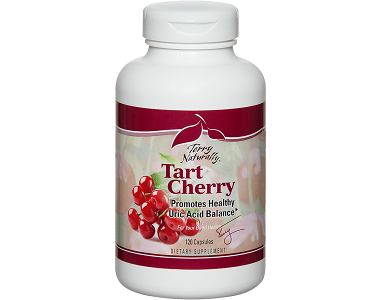 Gout
Updated December, 2021
---
Terry Naturally Vitamins Tart Cherry Review
---
Manufacturer's Claims
Today we review a gout remedy, Tart Cherry, by Terry Naturally Vitamins. Gout is caused by high uric acid in the blood. Uric acid spikes when the body has to break down purines, which occur  naturally in the body. They are also found in foods such as red meat, organ meats such as kidneys and liver, grains, sugary foods, rich seafood such as oysters and alcoholic beverages. To stave off gout, you must decrease your uric acid levels by omitting purines and/or through a uric acid neutralizer such as black cherry. Research has shown that black cherry reduces inflammation and uric acid levels in the body.
High uric acids levels cause crystals to form in and around a joint. It causes a friction-like environment in the joint characterized by swelling and redness. This then gives rise to the inflammation and pain. The crystals are usually broken down by the kidneys so they can leave the body as urine but this may prove impossible if there is simply too much uric acid to break down.
Tart Cherry has been formulated to be full of anthocyanin, which are richly colored flavonoid compounds in cherries packed with antioxidant capacity. They are also linked to correcting the uric acid balance in the body.
Formula
The amount of cherry extract is good but the anthocyanin extract is slightly lower than in certain other formulas. Anthocyanins are flavonoid compounds in cherries that are packed with antioxidants. They also help to balance uric acid levels in the body so the body can break down purines more effectively without a gout flare up resulting.
Instructions
Take 1 or 2 capsules twice a day. Consult your doctor if you are pregnant or breastfeeding.
Cost
One bottle of 120 capsules costs $35.95 on the product website and for $28.76 on Amazon. There do not appear to be bulk discounts.
Possible Side Effects
Note that the product contains magnesium stearate which made induce headaches, depending on how sensitive you are. These capsules are vegetarian safe. They do not contain the following allergens, preservatives or additives: sugar, salt, yeast, wheat, gluten, corn, soy, dairy products, artificial coloring, artificial flavoring or artificial preservatives.
Guarantee
A full refund applies, provided you follow the stated policy. The policy is vague in that it does not state for how long the guarantee applies, for example, if it is a 30-day or 60-day guarantee.
Terry Naturally Vitamins Tart Cherry – The Bottom Line
Gout is so painful that you need a fast-acting, potent intervention. The product garners average reviews and seems to do what it says, except in severe cases of gout. It seems fine to use if your outbreaks are not that many, or not that crippling. The capsules contain a solid amount of tart cherry, and studies have shown that this indeed restores uric acid to normal levels in the body. It is therefore highly unlikely that you won't experience at least some relief using Tart Cherry.
The issue is one of intensity and prevention – if you are looking for a supplement that will keep even the most severe cases of gout at Bay, you would do well to search for one with added potent ingredients. The likes of folic acid, dandelion and yucca would be other ingredients to possibly look for as the cumulative effect with tart cherry would be more effective. You would be looking for something that flushes out toxins such as uric acid long term, or has an antioxidant diuretic effect, in other words. The more antioxidants, the better the health of the kidneys and liver, the greater the rate of uric acid relief.
Reviewed & delivered by our panel of experts at Reviewy.