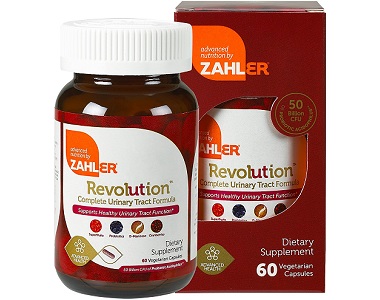 UTI
Updated November, 2023
---
Zahler UTI Revolution Review
---
Manufacturer's Claim
It is estimated that 1 in 2 women will experience recurring UTIs throughout her lifetime. If untreated, a UTI can spread to the kidneys and cause significant damage. Painful urination, frequent urge to urinate, pressure in the lower abdomen and burning sensation are all common symptoms of an uncomfortable UTI, so when looking to invest in an effective product, nobody wants to waste time on fake products available on today's market. This review examines Zahler UTI Revolution's claims to be as effective in treating a UTI as antibiotics. UTIs occur when bacteria enters the urethra and bladder where they spread and multiply. UTI Revolution has a strong blend of natural ingredients like D-Mannose, cranberry, probiotics, and prebiotics that are known to provide fast acting relief from UTIs and can also help maintain a healthy urinary tract for long-term health and well-being by tackling the problems at the source.
Formula
Lactobacillus Acidophilus – 5000000000 mg
D-Mannose – 1200 mg
Cran-Max Cranberry Extract – 1000 mg
Vitamin C (Ascorbic Acid) – 100 mg
Antioxidant Superfruit Blend (Acai, Pomegranate, Goji) – 50 mg
FOS (NutraFloew) – 80 mg
Other ingredients:
Microcrystalline Cellulose
Silica
Instructions
Zahler UTI Relief recommends taking 2 capsules twice a day with meals and preferably with a full glass of water.
Cost
We were able to find Zahler UTI Revolution being sold online on a third-party website priced at $29.98 per 60-capsule bottle. At the recommended dosage, one bottle will not last a full month.
Possible Side Effects
There are no reported side effects listed on Zahler UTI Revolution's page. After conducting further research we found that the cranberry contained in UTI Revolution can cause mild side effects like nausea, indigestion, and diarrhea.
Guarantee
We were unable to find any information about a money-back guarantee from the manufacturer. As you can buy this product from different third-party retailers, it is important to pay attention to the refund policy of the retailer. Most, it would seem, offer refunds for products that are returned unopened within 30 days.
Zahler UTI Revolution Review – The Bottom Line
We were impressed with Zahler UTI Revolution's extensive list of key ingredients that have been studied and are known to provide long-term urinary tract maintenance and relief from the uncomfortable symptoms and pain of a UTI. We were concerned, however, with the limited amount of information available about this product on its home page and across the internet. Their website is limited and hard to navigate or understand. A consumer wants to know what they are paying for and based on the information online, we are not confident that we understood how Zahler UTI Revolution is actually effective. There are many competitors that disclose significantly more information about their product, including their risks and benefits as well as any research that has been done. We were unable to find any official conclusions about the validity of this product. There were also, notably, very few consumer testimonials available of satisfied or dissatisfied customers. As a consumer, it is hard to trust their claim to be as effective in the treatment of UTIs as antibiotics as this claim is not proven or backed up.
Reviewed & delivered by our panel of experts at Reviewy.