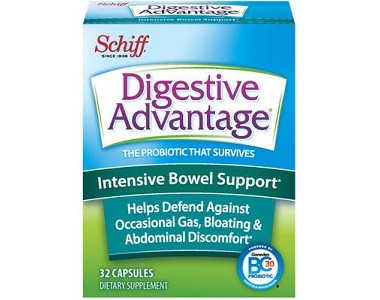 IBS
Updated November, 2023
---
Schiff Digestive Advantage Intensive Bowel Support Review
---
Manufacturer's Claim
The manufacturer, Schiff, claims that their product is able to eliminate gas, bloating, as well as stomach pains. These are all the symptoms associated with Irritable Bowel Syndrome (IBS). The ingredients in the product are a blend of enzymes that digest various foods, helping to maintain a healthy gut system. What is to follow is a review on the product, Digestive Advantage Intensive Bowel Support.
Formula
BC bacillus coagulans GBI-30 – 1 billion viable cells
Protease – 30 000 HUT
Amylase – 450 DU
Lipase – 30 FIP
Other ingredients include: maltodextrin, hypromellose, microcrystalline cellulose, stearic acid, dextrin, titanium dioxide, silicon dioxide, magnesium stearate. Contains wheat and soy. The mixture of enzymes aids digestion and ensures that the intestines are functioning correctly. For example, lipase helps to digest carbohydrates. Although the manufacturer states that their formula contains wheat and soy, they do not indicate whether the magnesium stearate is from an animal or vegetable source.
Instructions
The manufacturers of this supplement suggest that an adult should take one (1) capsule each day with food. However, they also mention that doubling the dosage would be more beneficial. There is a warning not to exceed three (3) capsules per day. For children aged 8 years and older, one (1) capsule is the recommended dosage, also taken with food. For a week or two, no results will be experienced. Only after that period the results should become noticeable.
Cost
A bottle containing 96 capsules may be bought online for the purchase price of $19.49. No discounts, special offers, or package deals are offered by this manufacturer.
Possible Side Effects
No side effects are mentioned by the manufacturer. However, buyers are warned not to exceed 3 (three) capsules per day. Consumers should be wary as this does imply that some side effects may be present in the case of an overdose on this product.
Guarantee
The manufacturer does offer a 30-day money-back guarantee on its product if a buyer is not satisfied.
Schiff Digestive Advantage Intensive Bowel Support Review – The Bottom Line
For people who suffer from IBS, having a product that can deal with the symptoms is a benefit. This supplement comes with a 30-day money back guarantee, and the instructions are clearly stated. There are some problems with this formula. Firstly, there are hardly any reviews about this product. In fact, on the company's own website there are no reviews under the subheading 'reviews'. Reviews are useful as they provide potential buyers a better insight into the benefits and problems of a supplement, as experienced by other users. In this case, nothing is said. Secondly, the manufacturer doesn't offer any discounts on this product, which would have made it more economical. Thirdly, even though the manufacturer states that the product is safe to use, they also state not to exceed  three (3) capsules per day. A possible overdose may therefore be seen as a risk. Lastly, unlike other formulas, this product only has a limited number of enzymes. This leads one to query whether the product delivers sufficient value for money.
Reviewed & delivered by our panel of experts at Reviewy.