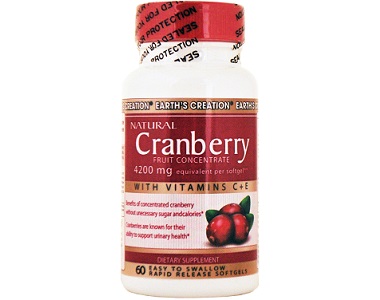 UTI
Updated May, 2021
---
Earth Creation Natural Cranberry Review
---
Manufacturer's Claim
In this  review we take a critical look at Earth Creation Natural Cranberry to determine the value and effectiveness of this for the prevention of urinary tract infections, by maintaining the health of the urinary tract. We evaluate the effectiveness of the supplement based on its ingredients and the scientific research about them and the dosage that these ingredients are included at.
Formula
Cranberry extract contains a few antibiotic compounds and a high level of antioxidants. Antioxidants remove the harsh chemicals, known as free radicals, that are released in high amounts during an infection. If they are not removed by antioxidants, they cause significant tissue damage and inflammation, which contributes to some of the painful and irritating symptoms of a urinary tract infection. Vitamins C and E enhance the immune system, which helps it to fight off the infection. Cranberry extract is helpful in relieving a urinary tract infection, but it cannot work as well without other ingredients like D-mannose, which prevents some harmful bacteria from binding to the urinary tract wall.
Instructions
We were only able to determine that each serving of the product contains the equivalent of consuming 4200 mg of cranberry juice. More than that, the manufacturer doesn't share. They do not state how many capsules of the supplement should be taken per day or whether they should be taken with food or not.
Cost
The manufacturer does not sell the product directly, but rather relies on third-party retailers to do so. When we searched for the product on third party retailer websites, we found that the product was not available for purchase at the time of the writing of this review. This means that either the product is being changed, or there is just no demand for it. In either case, this is not a good reflection on the quality of the product.
Guarantee
We could not find any evidence that the manufacturer offers any form of guarantee on Natural Cranberry at all. This means that you take a risk when purchasing the product, because if it does not work, then you have wasted your money. There were no customer reviews for this product when we searched for it on third-party retailer websites suggesting to us that Earth Creation Natural Cranberry  is not popular at all.
Earth Creation Natural Cranberry Review – The Bottom Line
We liked that this product contains all natural ingredients, which have some scientific research to support their effects. Other than that, there really isn't much else going for this product. The manufacturer doesn't share relevant information, there is little demand for the product and it is not guaranteed.  There is no pricing information available either. We definitely believe that there are better formulas against urinary tract infections on the market that have a guarantee and a selection of user reviews to help you evaluate the product worthiness.
Reviewed & delivered by our panel of experts at Reviewy.