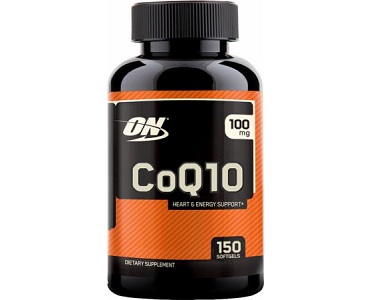 CoQ10
Updated September, 2023
---
Optimum Nutrition CoQ10 Review
---
Manufacturer's Claim
CoQ10 is well researched as a supplement supportive of heart health, offering an energy boost to the cells, as claimed by this supplement's manufacturer, Optimum Nutrition. The manufacturer of this health product claims that it is important that active adults take this dietary supplement. This is a review about this dietary supplement and the claims made by the manufacturer.
Formula
CoQ10 is vital for the body's energy production. It also supports a healthy heart. Other ingredients: rice bran oil, gelatin, vegetable glycerin, purified water, lecithin, D-alpha-tocopherol, yellow beeswax, zinc oxide, annatto powder. Annatto powder helps with the (absorption of the nutrients.
Instructions
Dosage is given as one (1) capsule daily. No mention is made of time of the day it is best to take the capsule, or whether it should be taken with or without food, for optimal results. However, each capsule only contains 100 mg of CoQ10 which is 150 mg less than the recommended dosage for best results.
Cost
A 150-capsule container (100 mg per capsule) of CoQ10 costs $31.99. No discounts are available.
Guarantee
Buyers can return the product for a refund. The company must be contacted before the return is made, establishing whether you are eligible to return the product. You will receive a return authorization number and instructions on how to return the items. Payment will only be refunded after two billing cycles.
Optimum Nutrition CoQ10 Review – The Bottom Line
This dietary supplement per bottle is sufficient for five (5) months, and there is a return policy that protects buyers. On the downside, the quality of this dietary health product compared with others on the market is poor. Each capsule contains 100 mg of CoQ10 only. The preferred dosage of this substance is 250 mg, for optimal results. This product contains less than half contained in superior supplements. Another concern is that the manufacturer does not offer any discounts which could make the product more economical than others currently on the market. Furthermore, the manufacturer's website does not contain much information about the product, in assisting a consumer to make an informed decision. Dosage instructions are vague and the return policy complex. Scant details are given on how to take the capsules for best results. As for the return policy, a subjective phrase questions whether the company will find a consumer eligible for a return. The bottle should contain at least 75% of the product, and should have been bought on sites as indicated by the return policy. The authorization number with the original proof of purchase should be sent to the company with the returned product to receive a refund. The consumer has to wait two billing cycles to receive a refund. Furthermore, this dietary supplement contains ingredients that may not be suitable for everyone. Certain religious groups, vegans, and vegetarians cannot use this product as it contains gelatin (beef). Anyone with a soy or bee allergy cannot use this dietary supplement either as it contains both beeswax and lecithin.
Reviewed & delivered by our panel of experts at Reviewy.