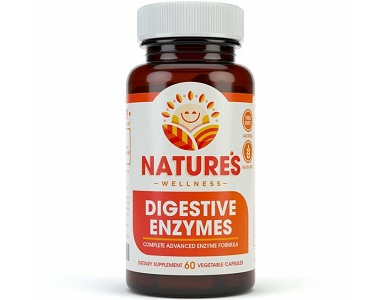 IBS
Updated December, 2021
---
Nature's Wellness Digestive Enzymes Review
---
Manufacturer's Claim
The subject of this review is for a product called Nature's Wellness Digestive Enzymes. The formula of this product has been designed by the manufacturer to assist in the digestion and absorption of the widest array of food and nutrients, ranging from proteins to the most common carbohydrates. In addition to this, the product also provides relief from gas, nausea, and bloating. Keep on reading to see what Nature's Wellness Digestive Enzymes can do for you and if it is worth trying.
Formula
Protease 1 – 20000HUT
Protease 2 – 4000HUT
Aspergillopepsin – 100SAPU
Amylase – 5000DU
Lipase – 1250FIP
Cellulase – 500CU
Glucoamylase – 50AGU
Invertase – 200SU
Alpha Galactosidase – 50GaIU
Beta Glucanase – 65BGU
Pectinase – 16.9PGU
Xylanase – 250XU
Phytase – 10FTU
Hemicellulase – 1000HCU
Lactase – 500ALU
Bromelain – 500000PU
Papain – 500000PU
Peptidase – 160DPPIV
Maltodextrin
Hypromellose
Water
Medium Chain Triglycerides
Nature's Wellness Digestive Enzymes contains a long list of ingredients. It is formulated to digest protein, carbs, fats, sugars, vegetables, grains, and dairy and allows for better absorption of nutrients.  The capsules are vegetable capsules and are thus vegetarian safe. The product does however contain dairy, soy, and wheat due to the fermentation process.
Unfortunately, the product does not contain BioPerine for added absorption and optimal benefits. Furthermore, it does not provide soothing ingredients to tackle intestinal pain presented in Irritable Bowel Syndrome (IBS).
Instructions
The manufacturer suggests that 1 capsule be taken, 1 to 2 times at the beginning of each meal as a dietary supplement, or as directed by your healthcare professional. One must not exceed 6 capsules within any 24-hour period.
Cost
Nature's Wellness Digestive Enzymes can be purchased online from the manufacturer's website. A bottle of 60 capsules will cost you $17.85. This is a reasonable price, however the manufacturer does not offer a discount and they do not provide the customer with the option of bulk purchases.
Possible Side Effects
There are no possible side effects listed, however, the product is manufactured in a facility which may also process milk, soy, wheat, egg, peanuts, tree nuts, fish, and crustacean shellfish. Persons with these allergies should caution the use of this product.
Guarantee
The manufacturer offers a guarantee, for customers who are not completely satisfied with the results of the product. This return policy is however only valid to first time purchases and only to the first bottle purchased.
Furthermore, the manufacturer offers a 60-day money-back guarantee on sealed products in their original packaging.
These two types of returns are not very helpful, as the first mentioned option does not provide a return time. A customer needs at least 90-days to test the product to see if it works. The second option does not provide the customer to open and use the product. This is a weak guarantee.
Nature's Wellness Digestive Enzymes Review – The Bottom Line
After our review of Nature's Wellness Digestive Enzymes, we have found a few things that we like. The product contains essential digestive enzymes and it comes in an easy to swallow capsule.
There are however a few things we found that we did not like about the product. First of all, the product does not contain BioPerine, and it does not contain soothing ingredients to tackle intestinal pain. Furthermore, they do not offer discount. Lastly, the manufacturer does not provide a solid money-back guarantee. We do not recommend Nature's Wellness Digestive Enzymes as an effective IBS supplement.
Reviewed & delivered by our panel of experts at Reviewy.