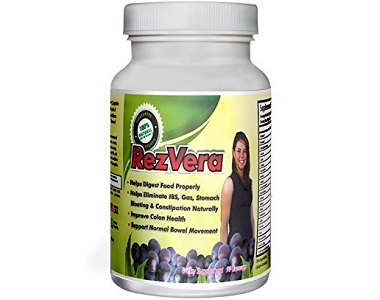 IBS
Updated August, 2020
---
RezVera Stomach Protection Review
---
Manufacturer's Claim
Our review today is on RezVera Stomach Protection, a herbal and enzyme-based product that is formulated to improve your colon health, promote regularity and improve digestive functioning on the whole. If you are an IBS sufferer, this product could be of benefit. Improper digestion and colon inflammation are two underlying causes of IBS, and this product tackles both. When food cannot be broken down, this is usually due to a lack of enzymes that are required for this process, or an imbalance of bacterial flora in the gut. When the gut bacterial balance is out, it interferes with many digestive processes.
Most supplements tackle these issues from a probiotic perspective. This product takes a more direct approach, injecting plant-based enzymes and nutrients needed for digestion. It should also soothe the colon.
Formula
Each serving is made up of 2 capsules which contains:
Protease 1 – 20,000 HUT
Protease 2 – 4000 HUT
Acid Stable Protease – 100 SUPU
Amylase – 5,000 DH
Lipase – 1,250 FIP
Cellulase – 500 CU
Glucoamylase – 50 AGU
Invertase – 10 SU
Catalase – 50 BU
AGS a-Galactosidase – 50 Galu
Beta-Glucanase – 65 BGU
Pactinase – 1,500 Ajdu
Xylanase – 125 Xu
Phytase – 10 Pu
Hemicellulase – 750 Hcu
Lactase –  500 ALU
Bromelain – 500,000 PU
Papain – 500,000 PU
Aloe Vera – 20mg
Resveratrol – 40mg
A number of enzymes plus plant antioxidant, regenerative and soothing agents are present. Amylase breaks down carbohydrates including sugar. Those who cannot handle gluten are usually amylase deficient, and it is a part of their digestive malfunction. These enzymes therefore address a key issue. Food ferments in the gut when it cannot be broken down, giving rise to bloat, cramps and gas.
Aloe vera will soothe colitis and the colon in general. Bromelain and other plant extracts are very rich in vitamins and nutrients as well, also helping to reduce inflammation. This product is gluten-free, a sensible manufacturing choice given that wheat irritation is often present in IBS sufferers too.
Instructions
Take one or 2 capsules after each meal. The manufacturer brands its product as side-effect free due to the all-natural ingredients and safe for all.
Cost
There are 90 tablets per bottle retailing for $32.97. This is 2 to 3-month's supply. The autoshipping option comes with a 45% discount. There is also a buy 2, get one free option.
Possible Side Effects
Stay clear in the unlikely event of a grape or aloe vera allergy, as these are key components of the preparation.
RezVera Stomach Protection Review – The Bottom Line
The mix of digestive enzymes and plant derivatives that soothe and cleanse are a welcome departure from standard probiotic offerings for digestive ailment. The manufacturer uses a multi-prong approach which tackles enzyme deficiency, nutrient deficiencies and reducing inflammation.
Although there are many consumer reviews for other RezVera products, we cannot find anything for this specific offering. This makes us question the veracity of the manufacturer's claims, notwithstanding what looks like a sensible preparation. It could also be that the product is new and in untested consumer feedback territory, in which case it is a fairly risky purchase notwithstanding the guarantee. We also caution against autoshipping options when there are no clear inbuilt third-party privacy and security checks built in. Without these assurances on the website from the manufacturer, such autobilling contracts are notoriously hard to cancel, often even in the face of this being a stated non-issue.
Reviewed & delivered by our panel of experts at Reviewy.